Regional Conference Overview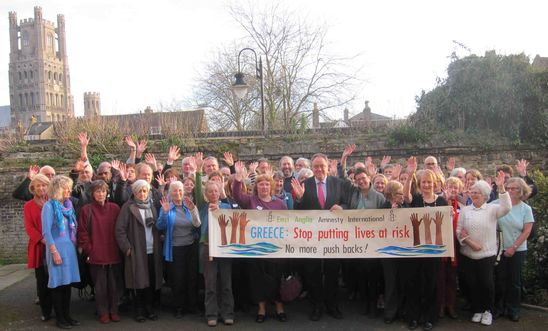 Saturday 8th March saw our group host the Regional Conference for Amnesty groups in East Anglia. It was held in an excellent venue - the Methodist Church Hall in Chapel Street - which was spacious and well equipped. Best of all, their brilliant catering team provided delicious lunches and teas for our 60 group members, delegates and speaker - making the food one of the highlights of the day.
Delegates came from across our region, from the Bury St Edmunds, Cambridge, Chelmsford, Ipswich, Norwich, Saffron Walden, Southend, Thetford and University of Hertfordshire groups, from the Zimbabwe Network, and from unaffiliated Amnesty members. Our group member, Teresa Ely, ran a very popular Traidcraft stall, and also provided Traidcraft goody-bags for all our speakers.
Our theme was migration and human rights - with our first two speakers putting the issues into an East Anglian context, followed by two others who widened them out into "fortress Europe" where countries like Greece, Spain, Italy and Romania are in the frontline as people flee conflict zones in the Middle East, Africa and Asia.
Our highly knowledgeable and enlightening speakers were:
Jo Taylor, a BBC East journalist, who spoke about her investigation into the hardships experienced by some eastern European migrants in the Fens, particularly when the immigration system separates families
Pat Del Grazia, advice session leader from Rural Cambridgeshire CAB (Citizens Advice Bureau), who built on Jo's talk by explaining some of the many challenges faced by migrant workers - and how inaccurate and misleading much of the media reporting is about their entitlements to benefits and housing
Kate Allen, Director of Amnesty International UK, who gave an update on Amnesty's priorities and highlighted campaigning issues with regards to refugees and asylum seekers
Richard Howitt MEP for the East of England (Labour), who talked about migration within the European Union and the need for a pan-European responses to the crisis.
Our Regional Co-ordinator, Liesbeth ten Ham, ran an exceptionally useful Workshop, asking groups of delegates to debate how to rebut common myths and misconceptions that the UK is suffering from an "invasion of foreigners" stealing jobs and draining welfare and health resources.
We ended the informative, stimulating and very enjoyable day with our petition and photo Action opposing the push-backs of migrants by the Greek border guards and coastguard - using a banner designed and painted by local artists Barbara Grafton, Ricki Outis and Cary Outis. For background on the Greek push-backs and other issues concerning migration in Europe, see: http://www.whenyoudontexist.eu/#es
All in all, the Conference was a great success - proving once more that we have incredibly dedicated, hard working, and talented members in Ely City group.
View latest posts