Petition for Jacqueline Montanez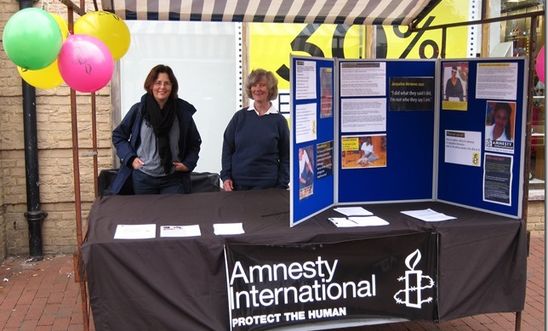 In August this year, our Group took on the long-term case of Jacqueline Montanez. She is the only woman the State of Illinois, USA, has sentenced to life imprisonment without the possibility of parole for a crime committed when she was a child of 15. The imposition of this sentence on anyone under 18 years old at the time of the crime violates international law. The 2nd of September this year marked 24 years since the UN Convention on the Rights of the Child came into force, an international treaty which the USA has signed but never ratified.
The background to Jacqueline's case can be read on the attached PDF.
On Saturday 27th September we set up stall in Ely market to publicise Jacqueline's situation and to ask members of the public to sign a petition on her behalf. The petition, addressed to the Governor of Illinois, Pat Quinn, asked:
"We the undersigned urge that clemency be granted to Jacqueline Montanez who was sentenced to life imprisonment without the possibility of parole for a crime committed at the age of 15. Although she committed the serious crime of murder, after 22 years in prison she is now a very different person who has proved that young people who commit serious crimes can be rehabilitated. Although the US Supreme Court outlawed life without parole for children in 2012, full implementation has been delayed in Illinois. We further urge that the State of Illinois upholds the retroactive ban on sentences of life without parole for crimes committed by children and young people under the age of 18."
We were delighted to collect 108 signatures on the petition, which will now be sent to Pat Quinn, to Matthew Barzun at the American Embassy in London, and to Jacqueline's lawyer, Alison Flaum.
We will also be writing and sending cards of solidarity to Jacqueline at Logan Correctional Center in Illinois.
Her sentence is clearly unjust, and we hope that our pressure, and that of other Amnesty groups around the world and other human rights campaigners, will eventually secure her chance for parole or release.
View latest posts