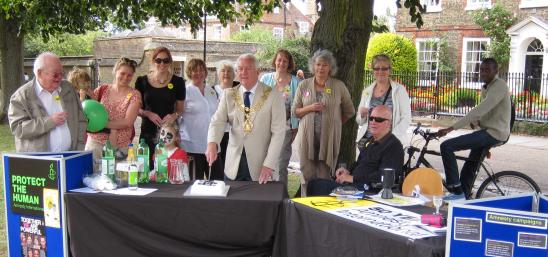 Please visit our main website and more information:
http://www.amnestyelycity.org.uk/
As one of the speakers at the inaugural meeting, we were privileged to have Bruce Kent, the veteran human rights campaigner and former general secretary of CND. To quote him:
"Each of us is our brother's keeper by engaging in the struggle for human rights wherever they are under attack, you in Ely, will join the long list of heroes in the past, often little known, who have done the same. The name Amnesty today means hope to many worldwide who thought themselves abandoned."
So we are preparing ourselves to be heroes!  There is still plenty of room for new people with energy, enthusiasm and innovative ideas to be involved. We welcome people of faith and no faith, and of any nationality, all are welcome!