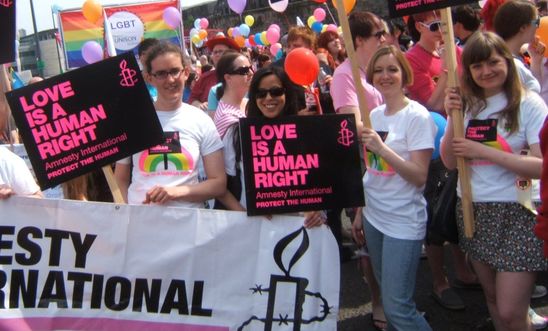 St. Marks supporting Edinburgh Pride 2011
Welcome to the Edinburgh Central group of Amnesty International. Our main meetings take place on the 2nd Monday of every month (except August) at 7:15pm at at the Amnesty Bookshop, 12 Roseneath Street EH9 1JH. These meetings start with a short general meeting and are usually followed by a talk or presentation by an external speaker.
We also have several subgroups on different topics, including Israel and the occupied territories, Abolish the , WDeath Penalty, Women's Rights and Stop Torture. Please get in touch (email: hollieruddick@gmail.com) to find out more! They usually meet once a month in a cafe to organise their own events and actions.
Find out about amnesty events over the next few months.
Follow us on twitter @StMarksAmnesty. Join us on facebook!