June Braithwaite, Dundee Group Member - Obituary. Jan. 2016.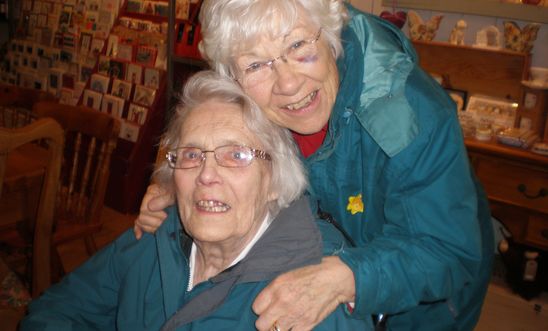 June(seated) with Anne Stuart, a friend.
In Memoriam: June Braithwaite.
           June was born on 30th June 1925 and sadly died on 7th. January 2016. She has been a committed member and volunteer for Amnesty International over many years. She had a lifelong  commitment to human rights, as well as campaigning tirelessly on issues related to peace and an end to nuclear weapons. Her beliefs were strongly supported by her Quaker faith.She was also a very committed environmentalist, a passionate and knowledgeable gardener with a dedication to following organic principles. June worked with tireless energy on many activities to benefit disadvantaged or oppressed people. She was a committed supporter of Palestinian rights, giving practical expression to this by persuading all who would listen, to buy Palestinian olive oil, imported into the UK, in support of the farmers there.  June never did things by halves and inspired others to follow her example by her wholehearted dedication to anything she took on. She was a strong , determined character and a real life force. She will be missed by many.
                                                                                   Sandy  Stuart. (Group Secretary)
View latest posts