Card signing for Individuals at Risk. 5-12-2015 at Dundee Library.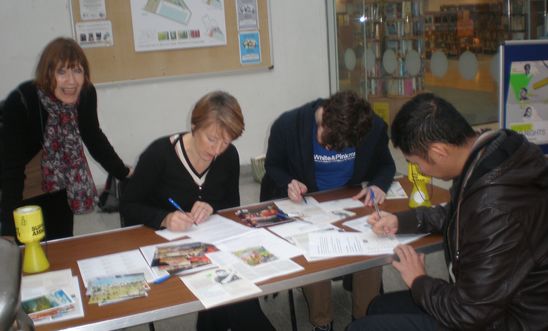 As in previous years, Dundee Amnesty Group will have a stall at the upper entrance to the Wellgate Library, Dundee on Saturday 5th. December, from appx. 10am to 2pm.. We will be signing Greetings cards to Individuals at Risk/ Prisoners of Conscience, sending messages of solidarity and good wishes. Individuals at Risk are generally people who are unjustly imprisoned for their beliefs or political activities, or may be defenders of the human rights of others. Some may not be in prison, but may suffer harassment, threats, violence or other persecution for the same reason.
             All members of the public are invited to join us in this activity and we will supply cards and information about the individuals concerned. We will also give any advice needed about what to put on the cards.
             Please come and visit our stall on the day. You won't need long to sign a card. ALL WELCOME!
Update: The card signing event took place as planned, with volunteers from the group looking after the tables and helping/ advising members of the public who wanted to sign cards. Six individuals were chosen by the  group for this event, including a Prisoner of Conscience from Indonesia whose case a group member had been working on for most of the year. 83 cards were signed and sent off in all and £53.69 collected in donations.
            Thanks are due to all volunteers and members of the public who signed cards...........also the staff at Dundee Wellgate Library who provided permission for our stall and supported the event. Particular thanks to Ann Buist who organised the event with the Library.
View latest posts