Fundraising Fun: Amnesty Croydon's Annual Quiz is a Roaring Success!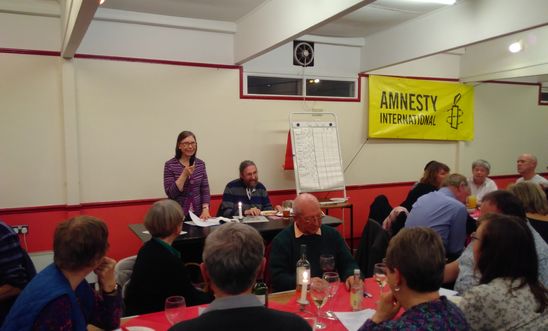 Amnesty Croydon's annual quiz night (March, 2019)
Everybody loves a good quiz - and the population of Croydon are no exception! Our annual fundraising quiz night was a great success, raising £670 in ticket sales and over £142 from the raffle. Delighted to also receive a £50 gift donation from a local artist and friend of Amnesty, our total net profit was a lovely £652.
Thank you to all of those who prepared/donated food, to our grand quiz-organiser Joan and to everyone who came. We hope to see you all next year! 
Take action
As well as fundraising for Amnesty on the night, we were also able to raise critical awareness of the case of Egyptian national Aser Mohamed.
Aser was held incommunicado for 35 days and tortured in order to "confess" to "membership in a terrorist group" and attacking a hotel - offences that he says he did not commit. He is now facing a trial along with adults which could see him sentenced to jail.
Find out more about Aser and other children at risk in Egypt here. 
If you're interested in getting involved with Amnesty in Croydon, please email Beverley at beverley.foulkes-jones@amnesty.org.uk.
View latest posts