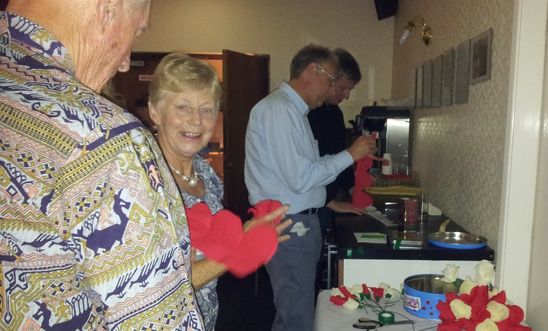 Making red and white paper roses in support of Women of Zimbabwe Arise (WOZA)
Zimbabwe.
Since Independence in 1980 Zimbabwe has had a troubled history. Initially the HR, economic and political situations were promising but over the years each of these aspects of life in the country has deteriorated markedly. Until 2008 the country was governed by ZANU-PF under the leadership of Robert Mugabe. Since the highly contested elections of 2008, which was characterised by extreme violence, the administration has been on of a fragile coalition between ZANU-PF and 2 groupings of the movement for Democratic Change (MDC). Robert Mugabe remains President and Morgan Tsvangirai is Prime Minister. There is evidence of improvement in some areas of life since then, but the situation remains precarious and life is still hard for most people.
Amnesty International remains concerned about HR violations on many fronts. These include lack of Freedom of Expression and of assembly where punitive repressive laws are often used in a partisan manner; impunity for state-sponsored violence (2008 elections and earlier massacres of the early 1980s in Matabeleland); the effects of the chaotic and violent Land reform Programme; lack of an independent media sector; and forced evictions (in 2005, 700,000 people were forcibly evicted: they have not yet been suitably re-housed and suffer substantial associated privations).
Amnesty's main partner in Zimbabwe has been WOZA. 
The Colwyn Bay group of AIUK has supported WOZA since 2009, sending cards of solidarity, letters to the Zimbabwean authorities and making paper roses to send to WOZA. Our most recent event was in September 2012 when we held a fund-raising dance for Amnesty and WOZA was the theme and focus. We decorated the room with roses and invited guests to make more for us to send. 3 boxes containing 100 roses were despatched in time for pan-African Women's Day later in the month.
 Why WOZA?
Since its formation in 2003, members of women's rights organisation Women of Zimbabwe Arise (WOZA) have been repeatedly arrested while taking part in peaceful demonstrations against the social, economic and human rights situation in Zimbabwe.
WOZA members have been subjected to intimidation, harassment, and ill-treatment by police officers. Many of those arrested have later been released without charge, but some have been charged under repressive legislation such as the Public Order and Security Act (POSA) and the Miscellaneous Offences Act (MOA). Women with babies, children and a heavily pregnant woman have been among those arrested.
Why Roses?
In February 2005, 53 women were arrested after a WOZA demonstration in Bulawayo to mark Valentine's Day. The activists marched with banners proclaiming "The Power of Love can conquer the Love of Power" and handed out roses to the public. Since then roses have continued to be used by WOZA during their protests and Amnesty International has adopted the rose as a symbol of solidarity for WOZA.
Over the last decade, WOZA under the leadership of Jenni Williams and Magadonga Mahlangu has become one of the main Human Rights organisations In Zimbabwe. They peacefully pursue their goals of freedom of expression and assembly, democratic rights and improved services using a range of campaigning and lobbying strategies. Food prices, electricity and water shortages have often been the focus of their campaigning activity. In recent months they have been actively campaigning that the new Constitution should allow full democratic rights for all citizens, and for increased devolution from the centre.
Amnesty International and WOZA have formed a strong partnership over the last decade. Jenni Williams has referred to AI as her 'big sister': whenever she and others have been arrested the call has gone out, and AI members around the world have sent letters that have generally ensured their early release.
Since the 'Arab Spring' things have become much harder for WOZA and other activists in Zimbabwe as the authorities have become more repressive. Elections are due and will probably be held in the early part of 2013, and again ordinary citizens and activists are fearful of a repeat of the violence that characterised the elections in 2008.
View latest posts