Refugees: Reflections in Words and Music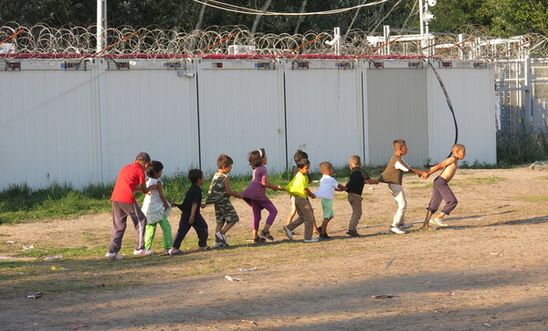 Children playing in a refugee camp at the Serbian-Hungarian Border, August 2016 © Amnesty International
WE have organised this event to be held in St Asaph Cathedral on Friday 7 July 2017 with help from The Youth Group at Ysgol Parc Eirias, and we aim to both inform and entertain. Refugees have been headline news for some time but very few have made their way to North Wales. A few families have been resettled recently but how quickly they feel accepted and start new lives will in part be determined by the 'welcome' they receive from local people and services.
We hope to help that process of 'welcome', and to encourage Local Authorities to resettle more families here in North Wales.
Charlotte Church will join us for the evening, when she will comment on the current refugee crisis and of course, sing!
From 6pm, the exhibitions will include a version of the major photographic exhibition by Magnum and AIUK recently staged on the South Bank in London, and a more local one from Rhyl Refugee Project which has collated material on the welcome afforded to Belgian refugees during the First World War. There will also be information tables from Refugee Council, Freedom from Torture, Amnesty International UK and Colwyn Bay and Eirias Park Groups. Other local organisations which are working with, or for, refugees will also be invited to bring information to share.
At 7pm the event will be opened by the Bishop of St Asaph, who actively advocates that Wales and the UK accepts more Syrian refugees, and he will be followed by Kate Allen, Director of AIUK for the keynote address. She will tell us more about the crisis, what needs to be done, and how we can all help.
As we progress through the Programme we shall hear junior school children from Ysgolion Llanddulas and Cystennin sing ' Under the Same Sun' a song of 'Welcome' written for Amnesty UK, poetry from  Mererid Hopwood, personal stories from 2 refugees who have come to the UK. Beatrice Smith, who has written of her journey, came from Rwanda as an adolescent after several years as a refugee in Africa. A more recent story will be told by a Syrian man who with his family, arrived only a few months ago and is just beginning to find his feet in this new country.
Other music will come from Deuawd Eleni Duo (harp and flute), Mary Hofman (violin) and Cor Iau Cytgan Clwyd a local Youth choir. 
All welcome. Free to enter but donations welcomed.
To reserve your place contact Maggie Towse: maggietowse@gmail.com
View latest posts