Chelmsford Champions of Human Rights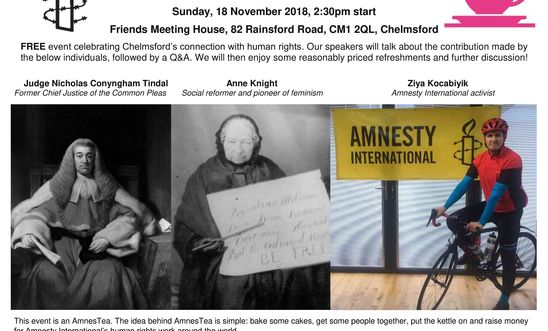 Poster banned by Essex Libraries © (c) Chelmsford Group
Essex Libraries considered our poster "too political" and refused to display it. Despite this, we had a good turnout.
Andrew introduced the event on notable Chelmsfordians who have been true defenders of human rights.
Veronica and Sarah expounded on the life of Anne Knight, a Quaker, who worked tirelessly to abolish the slave trade and afterwards for women's suffrage. In 1852, she addressed the Council Chamber in Chelmsford with the words "By tortured millions, by the Divine Redeemer, Enfranchise Humanity, Bid the Outraged World, BE FREE".
Solicitor Robin Tilbrook gave an absorbing account of the work of Judge Tindal, Lord Chief Justice of Common Pleas, whose statue stands opposite Shire Hall. He introduced the 'not guilty by reason of insanity' verdict and the defence of provocation to a murder charge.
Ziya gave a fascinating and colourful account of his cycle ride from Lands End to John O'Groats to publicize the appalling events that are happening in his native Turkey, illustrating it with statistics on the numbers imprisoned, dismissed from the jobs, and the impact on friends now in jail.
Downloads
View latest posts