40 years as Group Secretary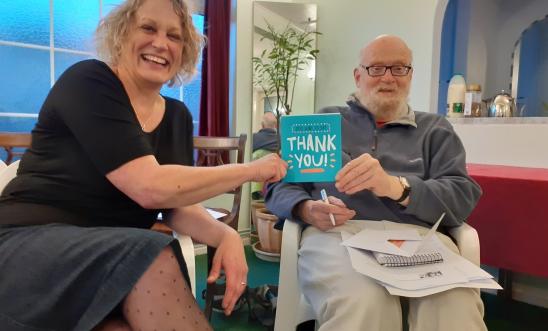 Bob receiving his card from Kath, Group Chair © Breege Gallagher
Bob Dewick celebrated 40 years as Group Secretary to the Bognor Regis, Chichester & District Group this year. His service as Group Secretary, friend, dispenser of facts and teller of (mainly terrible) jokes was celebrated by his fellow committee members at the 2022 Group AGM with a card and voucher for local independent brewery, following his re-election to the post and the start of his 41st year. 
As well as recording our discussions, organising our in-person meetings and updating us on the latest organisational requirements, Bob bravely volunteers each year to research the route and venue of our annual Pumble (Pub-Ramble): it's a tough job, but someone has to do it! 
Bob is also always game for activist action and has - over the years - worn a Guantanamo jumpsuit in chains, been a funeral director for our Pinochet/coffin demo, been a (very convincing) Grim Reaper against the arms trade and been imprisoned and has imprisoned others in numerous bamboo-cane cages.
We salute Bob for his long service and his outstanding support in the defence of human rights over the last 40 years.
Bob (second right) and Group members, Guantanamo demo, Chichester 2006
Cage at the Cathedral 2011. Bob overseeing Dean Nicholas of the Cathedral
Bob in top hat leads the Pinochet coffin demo, Chichester 1999
Downloads
View latest posts