Goals for Girls: A story of women with balls - Sunday 8 June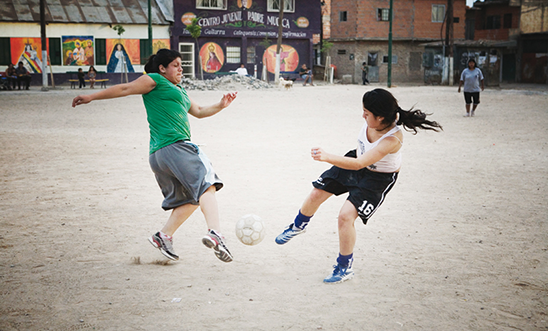 Goals for Girls: A story of women with balls
Sunday 8 June 3:05pm
European Premiere
Location: Hackney Picture House, 270 Mare Street, London, E8 1HE
Running time: 75 minutes
Directors: Ginger Gentile and Gabriel Balanovsky
In Argentina, where football is still considered a 'man's sport', a group of young women from the notorious Villa 31 shantytown in Buenos Aires set out to form their own team.
Their dream is to compete in the Homeless World Cup in Brazil, but before they can face their rivals on the pitch they must take on disapproving parents, disrespectful peers and apathetic football authorities to win the right to play. Taking their story as a starting point, Goals for Girls investigates the marginalised world of women's football in Argentina.
Panel discussion
Following the screening there will be a panel discussion will focusing on all aspects of women's football. The women's game is the fastest growing sport in the UK, but it still lags far behind the men's game in terms of investment, sponsorship and media coverage. Women are also under-represented in the governance of the sport.
Our panel includes:
Ginger Gentile, Goals for Girls Director
Marieanne Spacey, Assistant Manager of the England women's team
Sarah-Jane Mee, Sky News Presenter
Radha Balani, the Women's Sport and Fitness Foundation
Paul Mortimer, former manager of Charlton Athletics' women's team, now at anti-discrimination charity Kick It Out.
See the other films and events that are part of our Sidelines film festival