Freedom of Expression Award 2014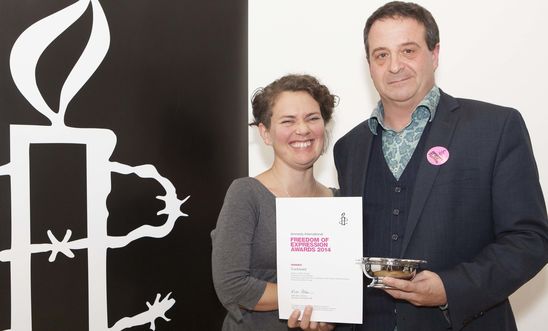 Freedom of Expression Award winners for 2014 Mark Thomas and Emma Callander
Our Freedom of Expression Award is given to an outstanding play at the Edinburgh Festival carrying a human rights message.
Every year we honour theatre productions of excellent artistic merit which also build understanding and raise awareness about human rights. Entries are reviewed by Amnesty Ambassadors and a panel of professional theatre critics to shortlist.
Cuckooed wins this year's prize
It was another amazing year for theatre with a human rights focus at the Fringe. This year, the shortlist was packed with truly powerful works from talented writers, directors, performers and producers.
Our 2014 Freedom of Expression Award winner was Cuckooed by Mark Thomas, a compelling show about friendships betrayed, corporate spying, and the erosion of our right to privacy.
Produced by Lakin McCarthy in association with Traverse Theatre Company the one-man show was written and performed by Mark Thomas, and directed by Emma Callander.
'This is the one to win; it's great. This was a very inspiring experience and I feel very humbled. There is something really moving about winning this Amnesty Freedom of Expression Award in the week that we lost Helen Bamber.  It seems important we remember her – she was outstanding and if we could be a fraction of what she was like; then the world would be infinitely better.'
Mark Thomas
'Cuckooed should be compulsory viewing for everyone in the UK. The timely and very important issues include the erosion of our rights to privacy, and democratic activism without interference from the state, but ultimately it was about freedom of expression, which is the reason we created this award.'
Siobhan Reardon, Amnesty International's Scotland Programme Director
2014 shortlist
City of The Blind/Horizontal Collaboration
Produced by Mhari Hetherington. Written and Directed by David Leddy. Performed by a company of actors including Claire Knight, James Mackenzie, Louise Ludgate, Shelley King, Adura Onashile, Keith Fleming, Neil McCormack, John Macaulay, Angela Darcy, and Wendy Seager.
Guinea Pigs on Trial
Produced by Louise Mothersole, Rebecca Biscuit, Jen Smethurst and Escalator East. Written by Rebecca Biscuit and Louise Mothersole. Directed by Louise Mothersole and Rebecca Biscuit. Performed by Rebecca Biscuit and Louise Mothersole.
No Guts No Heart No Glory
Produced by Common Wealth Theatre Company. Written by Aisha Zia. Directed by Evie Manning. Performed by Nayab Din, Seherish Mahmood, Freyaa Ali, Saira Tabasum and Mariam Rashid.
Sirens
Produced by Ontroerend Goed with Vooruit, Theatre Royal Plymouth and Richard Jordan Productions Ltd. Dramaturgy by Joeri Smet, Mieke Versyp. Written by The Sirens. Directed by Alexander Devriendt. Performed by Charlotte De Bruyne, Aurélie Lannoy, Anemone Valcke, Marjan Deschutter, Karolien De Bleser and Verona Verbakel.
Spine
Produced by FoolsCap in association with Soho Theatre. Written by Clara Brennan. Directed by Bethany Pitts. Performed by Rosie Wyatt.
Previous winners Freedom of Expression Award
2013 - Nirbhaya
A searing work based on the horrific rape in Delhi in 2012 silence around women whose lives have been shattered by gender-based violence. Tearing away the shame that keeps the survivors silent, Nirbhaya is a voyage into a tapestry of personal testimonies that speaks for a world no longer able to hold the tides of change at bay.
2012 - The Two Worlds of Charlie F
An important work which dealt with the issues of soldiers who have returned from conflict zones and the aftermath and very real implications of facing the world forever damaged. The innovative production brought together true stories performed by former serving soldiers.
2011 - Sold and The Wheel
The only year a joint prize was awarded. Sold explored the issue of slavery in the UK and how modern slavery not only exists but thrives in the present day. The Wheel, set in 19th-century Spain explores violence and conflict via a family wedding.
2010 - Roadkill
A critically acclaimed piece, which explored the sordid underbelly of sex trafficking, inspired by the true story of a young girl in Glasgow who had been trafficked to Scotland from Africa.
2009 - Palace of the End
Three stunning pieces that together encompass the range of consequences of political decisions, from the individual human level right up to the stresses on society as a whole.
2008 - Deep Cut
The story of how one ordinary couple have fought state intransigence to demand a full inquiry into the deaths of four young people, including their daughter, at the British army's Deepcut barracks.
2007 - The Container
A play about asylum, and racial and religious persecution, staged in a contained lorry with the audience shut inside.
2006 - Unprotected
A play which inspires debate about prostitution, violence against women and how we as a society respond to these issues.
2005 - The Exonerated
True stories of six men and women sent to death row after wrongful convictions, but eventually found innocent and released.