Recommended fiction teacher notes for primary and secondary schools
Fiction has real power to further human rights education. Explore the values at the heart of human rights with your class through our recommended fiction teacher notes for primary and secondary schools.
It is through literature, not simply literacy, that we learn to understand and empathise...Through literature, we can find our place in the world, feel we belong and discover our sense of responsibility. Amnesty understands this very well.
Michael Morpurgo
Getting started
Stories, memoirs and picture books are a great resource to help personalise human rights that may otherwise seem abstract. They can awaken students to new worlds and challenging situations.
Read our introduction Using Fiction To Explore Human Rights (PDF)
Then download our teacher's notes below for a human rights perspective on each text, including class discussion questions and activities.
We would welcome your suggestions for other books and always invite feedback from you as to how your students respond.
All these books are available in our  shop where your purchase will benefit our work for human rights around the world.
Latest publications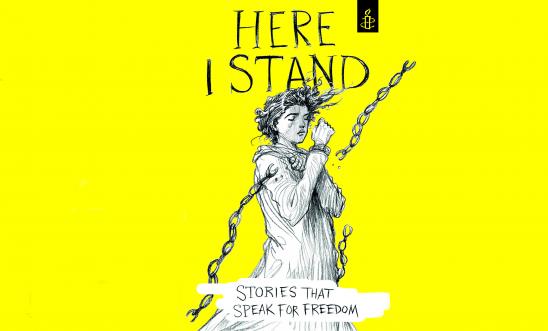 We're thrilled to introduce Here I Stand, a gripping collection of stories written by leading authors inspired by the Universal Declaration of Rights. This book presents a powerful way to help young minds tackle the pressing human rights issues that we all face today: download teaching notes for Here I Stand.
Primary
This beautiful story is about a little boy named Oliver who relies on his imagination for companionship, but feels isolated in the real world. One day, Oliver ventures outside his comfort zone when he travels next-door to retrieve his lost ball. This sends Oliver on his biggest adventure yet. Oliver is a book to celebrate the power of the imagination and the value of friendship - and to remind us that we are all born free and equal.
This picture book tells the story of a bear whose hat has gone and he wants it back.Patiently and politely, he asks the animals he comes across, one by one, whether they have seen it. Each animal says no, but just as he begins to lose hope, lying flat on his back in despair, a deer comes by and asks a rather obvious question that suddenly sparks the bear's memory and renews his search with a vengeance.This book, told completely in dialogue, explores concepts of lying, stealing and justice.
This resource is part of the Carnegie CILIP Using Fiction Anniversary Notes.
16 sketches encapsulate the freedoms and protections people enjoy every day, but never notice. They are simplified as: life, protection, freedom, safety, fairness, justice, family, belief, thought, togetherness, love, solidarity, ownership, knowledge, hope and mercy. My Little Book of BIG Freedoms aims to inspire everyone, young and old. These resources offer creative ways for young people to explore the rights in this book.
The illustrated book 'Imagine' follows one pigeon as she sets out on a journey to spread a message of hope and tolerance around the world. Featuring the lyrics of John Lennon's iconic song and illustrations by award-winning artist Jean Jullien, this poignant and timely book dares to imagine a world at peace.
Ben doesn't like parties. Because he's deaf, he often feels excluded from the fun. He doesn't even want to have his own party to celebrate his 7th birthday! But when his family and friends throw him a surprise party, he sees how easy it is for everyone to be a part of the fun. A Birthday for Ben is a beautiful story that teaches readers about the value of diversity and inclusion.
This beautifully illustrated picture book introduces the Convention on the Rights of the Child (UNCRC). It takes the key articles of the Convention and translates them into language children can relate to with full-page artwork, offering ways for teachers to open discussions about children's rights. Some of the rights explored include the right to education, the right to healthcare, and the right to grow up in an environment of happiness, love and understanding.
A beautifully illustrated book for the primary classroom, Bob Graham's story talks about caring for others with respect, patience and understanding. By using few words, and wonderful drawings, Graham allows children to explore how best to be active and caring citizens in a very busy world. How to Heal a Broken Wing teaches us that we all have the right to life, and to live in freedom and safety.
Dreams of Freedom features 17 inspiring quotations from champions of freedom including Nelson Mandela, Malala Yousafzai and the Dalai Lama. Each one is beautifully illustrated by leading international artists including Oliver Jeffers, Jackie Morris and Chris Riddell. This book empowers children to explore our many freedoms, build empathy and develop an understanding of human rights.
Upper Primary/ Lower Secondary
This beautifully illustrated picture book introduces a powerful and moving perspective on migration for readers of all ages. Told through the eyes of a young girl, the story explores the unimaginable decisions faced by a mother and her two children as they are forced to flee their home and everyone they know to escape the turmoil of war.
Colin Mudford's younger brother, Luke, has cancer and the doctors in Australia don't know how to cure him. Sent to London to stay with relatives, twelve-year-old Colin sets out to find the best doctor in the world. Who better to ask for help than the Queen of England? During his adventure, Colin meets a man named Ted who is also dealing with the illness of a loved one, Griff. They form an unlikely friendship and guide each other in a journey of humour, hope and acceptance. Two Weeks with the Queen explores the issue of discrimination, LGBTI rights, and the stigma surrounding Acquired Immune Deficiency Syndrome (AIDS).
Armed with a suitcase and an old laundry bag filled with clothes, Kasienka and her mother head for England. There, life is lonely for Kasienka. This book tackles the alienation experienced by many young immigrants. Moving, unsentimental and utterly page-turning, we meet and share the experiences of a remarkable girl who shows us how quiet courage prevails.
This resource is part of the Carnegie CILIP Using Fiction Anniversary Notes.
On a mean street in a mean city, a thief tries to snatch an old woman's bag. But she finds she can't have it without promising something in return – to 'plant them all'. When it turns out the bag is full of acorns, the young thief embarks on a journey that changes her own life and the lives of others for generations to come.This is a picture book of great beauty and hope about the power we have to transform our world.
This resource is part of the Carnegie CILIP Using Fiction Anniversary Notes.
A young boy with a huge heart explores the imbalance of a world in which it takes a Western football star a mere one hundred seconds to earn the monthly wage of the child labourers who make his boots.Themes of being proud of who you are, holding onto hope, and the importance of friendship and family bonds are explored with depth, compassion, and moments of heartfelt humour, against a keenly-evoked backdrop of global socioeconomic inequalities.
Free? contains short stories by outstanding writers, each inspired by a different human right, such as education, freedom of speech, faith, asylum and law. Free? is published in association with Amnesty International to celebrate the Universal Declaration of Human Rights and is especially great for children aged 10 to 15.
Set in the 1990s, In the Sea is the true story of an Afghani boy called Enaiatollah Akbari and his perilous five-year journey from Afghanistan to Italy. Enaiatollah is only 10 years old when his mother leaves him in Pakistan to fend for himself in an effort to protect him from the Taliban rule. Enaiatollah's long struggle to find safety, education, and a new home helps readers to understand the reality of what these rights mean. In the Sea there are Crocodiles explores the themes of freedom, safety, law and education.
Max is a journalist and film-maker who travels to the West Bank to make a film about the wall that divides the Palestinians and Israelis. Said is a Palestinian boy whose older brother Mahmoud was killed in the conflict. The two are brought together, and Max begins to understand why Said does not speak and why kite-making is so important to him. The Kites Are Flying explores the human rights of safety, freedom, wellbeing and peace.
Set in Bootle, north of Liverpool, this book tells the story of two refugee brothers from Mongolia who are determined to fit in with their new schoolmates while they apply to remain in the UK. A wonderful friendship develops between the boys and Julie, a girl in her last term at primary school. When the boys suddenly disappear one day, Julie struggles to separate truth from fantasy. The Unforgotten Coat explores the themes of freedom, safety, and belonging.
Secondary
Twenty-five top writers and illustrators explore human rights under threat in a literary shout-out to readers to stand up and help shape a better society. They cover important issues likely to resonate with teenagers today, such as bullying, race hatred, child sex abuse, freedom of speech, identity and gang honour. All of them uphold the importance of speaking up against injustice and standing up for other. Challenging, poignant and empowering.
Powerful graphic novel Alpha is the heart-rending story of one man's journey from Côte d'Ivoire to France in search of his wife and son who fled the country months earlier. He doesn't know what has become of them. It's an unflinching portrayal of the refugee crisis today – Alpha is one of millions on the move seeking sanctuary from poverty and violence.
Born in a refugee camp, all Subhi knows of the world is that he's at least 19 fence diamonds high, the nice Jackets never stay long, and at night he dreams that the sea finds its way to his tent, bringing with it unusual treasures. Explores themes including refugees, human rights abuses, courage, freedom and protest.
Set in a hostile alternative society, the pale-skinned Noughts are treated as inferiors by the ruling dark-skinned Crosses. The Noughts are continually racially discriminated against in matters of education and human rights including employment, housing, access to healthcare and places of entertainment. Noughts and Crosses explores the themes of law, discrimination, equality, safety, and freedom of expression, while showing us that we have a responsibility to protect the rights of others.
Soldiers of the Kashmir Freedom Fighters are in search of new recruits at nine-year-old Rafiq's school in rural Kashmir. Rafiq becomes the first boy in his class to be forced into a life of brutality and terrorism. So begins Rafiq's transformation from child to boy soldier, indoctrinated into a cause of fanatical belief. Chalkline explores the themes of slavery, child soldiers, freedom of belief, and the right to an education.
Set in the future, the Homeland has been cut off from the rest of the world by the Protectosphere, an electrified dome that protects and imprisons its inhabitants. Life inside is so controlled and monitored that rebellious behaviour is punished by work camps, torture and even disappearances, while the isolation leads to inbreeding, lack of resources and food shortages. Sixteen-year-old Neva plots to escape this world, which leads to grave danger and a horrifying truth. This dystopian thriller touches on human rights issues like slavery, torture, imprisonment, asylum, equality, freedom of thought, freedom of expression, and the right to independence.
Daughter of the Wind is a powerful story about a young girl's struggle within the constraints of her nomadic society. Shabanu lives with her camel-herding family in Pakistan's Cholistan Desert. At 12, she is already betrothed, while her 13-year-old sister is about to be married. When tragedy strikes, Shabanu must choose between dreams of freedom and her obligations to family and culture through forced marriage. This book deals strongly with girls' and women's rights in traditional cultures, exploring the issues of equality, freedom of choice, and protection by law.
Dreamland is a compelling story about the Crimean Tatars' struggle to reclaim the land from which they were exiled in World War II. All her life, Safi's parents dreamed of returning to her grandpa's native village in Crimea, but they end up exchanging their sunny Uzbekistan house for a squalid camp where no one welcomes them. This story explores how the struggle threatens to tear Safi's family apart, and encourages readers to evaluate what 'home' really means. It deals with issues of imprisonment, relocation, returning refugees, and the unfair repossession of land and property.
Zoe, 15, has a terrible secret she can't tell anyone. Then she hears of Stuart Harris, locked up on death row in Texas. Like Zoe, Stuart is no stranger to secrets. Or lies. Or murder. Zoe confesses her story in the only way she can – in a series of letters to Stuart, written with a pseudonym and false address. With the backstory of death row, Ketchup Clouds provides a thought-provoking platform for themes of love, loss, betrayal, guilt, innocence and redemption, alongside the human rights issues of freedom, safety, and torture.
Red Leaves is set in an ancient wood in London and tells the story of three young people who seek refuge there. Aisha, a 13-year-old Somali refugee, struggles when her foster mother announces a new family has been found for her. Zak, 12, is trying to cope with his parent's divorce, while homeless Iona fends for herself on the streets. Red Leaves explores the themes of war, rejection, family break-up and grief, in the context of home and what it means. Other human rights issues explored include: freedom, equality, safety, acceptance, freedom of thought and expression, and the right to food, clothing, housing and health care.
Alem Kelo's father is from Ethiopia and his mother is from Eritrea. With the countries at war, the family faces persecution and violence in each place. In an act of desperation, Alem's dad takes him to London to 'celebrate' his 14th birthday and abandons him there to seek asylum while he returns to fight for peace at home. This unforgettable story follows Alem's attempts to find his feet in a confusing and often hostile country, while in and out of court hearings. Refugee Boy explores the rights of freedom, equality, asylum, protection by law, and the right to food, clothing, housing and health care.
A powerful story of a girl who comes of age during China's Cultural Revolution (1966- 1969). Nine-year-old Ling leads a happy life with her parents, both dedicated doctors. Comrade Li, one of Mao's political officers, moves into their apartment and creates an atmosphere of increasing mistrust, secrecy and lack of freedom of expression in which Ling begins to fear for her family's safety. Revolution explores a number of human rights issues, including the right to freedom and safety, the right to protection from unfair imprisonment, the right to a public trial, the right to freedom of thought and expression, and the right to an education.
Secrets in the Fire is based on the true story of Sofia, an indomitable young girl in war-torn Mozambique, who strays from a path while playing and steps on a landmine. She manages to transcend the brutality and horror that have shattered her childhood, and builds a new future out of disability. It is a life-affirming, optimistic and warm-hearted story that deals with a child's experience of war with enormous sensitivity. It explores the right to life, and to live in freedom and safety.
Shadow, set partly in Afghanistan, partly at Yarl's Wood immigration detention centre in the UK, is the story of Aman, an Afghan boy fleeing the horrors of war. When Aman befriends a western dog from the caves where he lives with his mother, he struggles to part with the dog when he and his mother decide to make a bid for freedom. It soon becomes clear that the destinies of the boy and the dog are linked. A story that deals powerfully with the experience of a refugee child, Shadow explores the themes of equality under the law, the right to seek asylum, and the right to an education.
Flora Popescu's parents are planning to defect when daily life suddenly brings frightening changes – some linked to a friendship between Flora and a new boy at school, whose father ranks high in the secret police. Flora slowly realises that her father is in danger and only she can save him from the secret police. The Voices of Silence explores the themes of privacy, asylum, freedom of thought and expression, and the right to independence.
Set in Alabama during The Great Depression, To Kill a Mockingbird tells the story of an unfairly convicted black man in a white supremacist society. To Kill a Mockingbird explores the issues of equality, justice, dignity, racism and education through the eyes of six-year-old Scout Finch, daughter to the town's well-respected lawyer, Atticus Finch. Scout bears witness to the racism, injustice, and alienation that ensue when her father rises to the defence of Tom Robinson, a black man accused of having raped a white woman. To Kill a Mockingbird is a world-renowned novel recognized for its merit a piece of literature and as an educational resource for young adults. Unlike other learning resources on To Kill a Mockingbird, Amnesty's teaching notes explore how the themes of equality, justice, dignity, racism and education relate directly to specific articles within the Universal Declaration of Human Rights (UDHR).