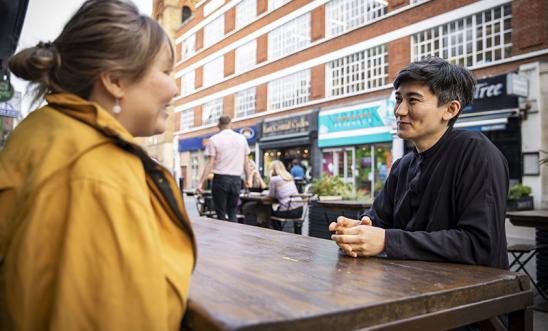 © Amnesty International
On this page you can find all you need to know to make sure you can deliver safe, ethical activism.
Some learning will be self-lead using online courses, other will be facilitated training that you can book on to. These might not always be available.
Information and self-paced learning
Fundamental Activist Skills
Learn a variety of basic skills to being an effective activist from our colleagues at Amnesty Australia. Whether you are new to activism or have been an activist for decades these helpful guides can help build your knowledge and help you feel more confident.
Data protection
Protect your data, protect your rights! Learn why it is essential to have a number of protections in place when working with the data of other activists, donors or partners.
Safeguarding children, young people and vulnerable adults
Visit Amnesty International UK's safeguarding page to make sure you're working with young people, children and vulnerable adults in a safe way.
Online safeguarding training coming later in 2022
Self-care for activists
Staying Resilient While Trying to Save the World series "A Well-Being Workbook for Youth Activists". Created with and for youth activists, this workbook supports self-care and sustainable activism.
 
Facilitated learning
Training on Equity and Inclusion (for Amnesty Activists only)
This introductory learning session will look at the core principles of equity, diversity, inclusion and anti-racism. Learners will explore the contemporary language of inclusion, gain a greater understanding of individual privilege and the impact it has on their roles, as well take part in constructive conversations on what anti-racism means for AIUK.
Football Welcomes - Engaging Refugee Women and Girls 
AIUK's online training session on engaging Refugee Women and Girls in partnership with The FA, will focus on the role of football in creating more welcoming communities, barriers to participation for refugee women and girls, making your football sessions accessible and being inclusive. The session will provide you with opportunities to network, as well as various interactive tasks to increase your knowledge and understanding so that you can successfully deliver football sessions with and for refugee women and girls. Read more about Football Welcomes.
Community Organising Training
The community organising team will provide facilitation for your group on how to effectively organise in your community and use all the tools at your disposal to drive change.
Coming later in 2022
 
Ethics training
This training will provide you with a clear understanding of the ethical responsibility Amnesty as an organisation has when working with individuals; to understand and explore the issues we face when working with or on cases; and to provide policies -and guidance on how to practically apply those policies to your own work with and for individuals, and when using images and testimony.
Coming later in 2022
If there is any learning content that you would like to see on this page or think we should prioritise you can email HRE@amnesty.org.uk and we collate all suggestions to help us plan and prioritise future learning and training creation. We cannot guarantee that anything you request will be created.