Ending Europe's trade in torture equipment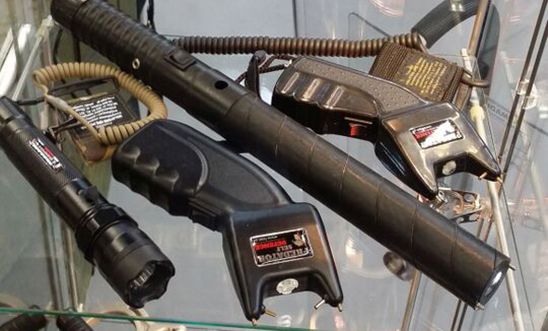 An electric shock stun baton and stun guns on display at the annual IWA 2015 trade event in Nuremberg, Germany. © Robin Ballantyne / Omega Research Foundation
Thumb screws, electric shock batons, leg irons and neck shackles. These instruments of torture aren't just confined to the history books – they're being used every day in torture chambers, police stations, military barracks and at public demonstrations all over the world.
The European Union (EU) is currently the only world region to have specific laws regulating the trade in equipment for which the primary purpose is to torture and abuse.
But due to legal loopholes, companies are still able to advertise and trade torture devices like the 'sting stick' spiked batons, thumb screws and lethal injection drugs to known human rights abusers outside the EU.
This law needs to be tightened – we must not be complicit in equipping torturers.
Advertised in the UK
Many items, such as spiked batons, are completely banned in the EU because there is no doubt about their intended use – torture. But companies from outside the EU can still promote and market the equipment within the EU.
The UK has repeatedly hosted international arms fairs where illegal torture equipment has been advertised. At some we found cluster bombs, at others it's been leg irons, electric shock batons and stun guns – tools used to torture people.
Despite promises to clamp down on this practice, no company has ever been prosecuted for peddling torture equipment at UK arms fairs.
EU companies can also trade in torture equipment – as long as it doesn't physically enter the region. Sitting in an office in Berlin or Paris, a broker could arrange the sale of items to buyers outside the EU.
'We want to see the end of the UK playing the dirty role of matchmaker between trader and torturer.'

Oliver Sprague, Amnesty's Arms Programme Director
A step forward
Right now we have an opportunity to close these loopholes as the EU is reviewing the law that prohibits the trade of items used for torture and the death penalty.
Almost 30,000 of you signed our petition calling on the EU to fix the flaws that allow people to profit from torture.
And in October 2015 the report amending the EU 'tools of torture' regulation passed through Parliament plenary with a massive majority of 630 for and 30 against, with support from all of the major political groups. This is a huge step forward in ensuring that the law is strengthened.
Now we need the EU member states to follow suit. They must ensure that the EU is never complicit in the sale of torture items.