End inhumane overuse of detention now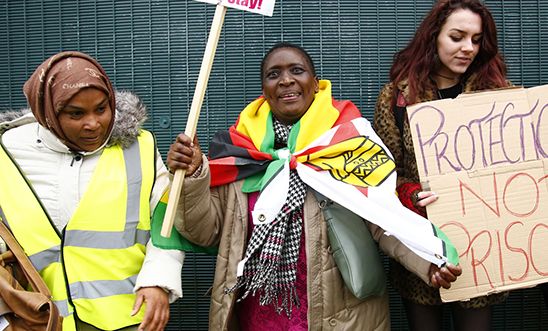 Demonstration calling for the closure of Yarl's Wood Immigration Removal Centre in Essex, 18 November 2017 © Natasha Quarmby/REX/Shutterstock
While his children were asleep upstairs, immigration officers filled Chris' home and took him away. Despite pleas from his partner he wasn't even given the chance to say goodbye. His daughter had nightmares and wet the bed because of being separated from her dad.
This is the UK and this is the human cost of our immigration detention policies.
What is indefinite detention?
The UK locks up thousands of people in immigration detention every year, including survivors of sexual violence and torture, and people with serious medical problems. This can have a terrible impact on their mental health.
In most cases, there is no time limit on how long someone can be detained, meaning that they have no idea when they will leave. For most, detention usually lasts no more than a few weeks, but some are held for many months and even years.
There are three types of purpose-built facility:
Detention centres, officially termed 'Immigration Removal Centres'
Short-term holding facilities
Pre-departure accommodation
How many people does the UK lock up?
The UK's has one of the largest immigration detention networks in Europe.
As many as 3,500 people can be held at one time and between July 2016 and June 2017 more than 27,000 people were detained.
It's not just adults that are in these detention centres, its women as well and in some cases there's children in there.
Elaine, Chris' partner
The Shaw Review
In 2016, Stephen Shaw published his Home Office commissioned review into the welfare of vulnerable people in detention. In his final report he called for immigration detention to be reduced considerable.
Our research shows the despite the Shaw review detention is still being used excessively in a routine way.
Update
Since then, Mr Shaw has conducted a further review in to the impact of Home Office reforms to its detention policies. This second report was published on 24 July 2018, in which he states that 'the time that many people spend in detention remains deeply troubling. Furthermore, over half of those detained are still subsequently released back into the community'.
What do we want to see?
The government must significantly reduce its use of immigration detention; introduce a time limit for all of those detained and ensure automatic judicial oversight.
Thank you to the thousands of you that signed our petition calling on the government to radically transform its detention policies so more people like Chris aren't ripped from their families and thrown into chaos. We will keep you updated on this issue.