Egyptian photojournalist Mahmoud Abou Zeid, known as Shawkan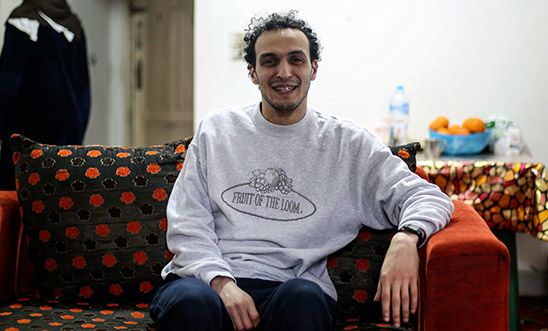 Mahmoud Abou Zeid, known as Shawkan, at home
Egyptian photojournalist Mahmoud Abou Zeid, known as Shawkan, has finally been released after spending more than five and a half years in prison on trumped-up charges. 
Arrested for doing his job
Shawkan was 25 when he was arrested simply for doing his job on 14 August 2013.
 
He was covering a sit-in protest when Egypt's security forces burst in, killing between 800 to 1,000 protesters in cold blood. This came to be known as the Rabaa Massacre.
Shocking conditions
When first brought in Shawkan was repeatedly punched and whipped with a belt, and then left in a cell without receiving treatment. Mercilessly punished simply for trying to expose the horrors of the Egyptian regime.
During his five and half years in prison he was also beaten, tortured and refused the proper medical care he required for Hepatitis C – a life-threatening disease from which he suffers.
The death penalty also loomed over his head, with hearings repeatedly scheduled and postponed over 50 times. 
He was convicted in September 2018 in a mass trial of more than 700 people, including senior leaders of the Muslim Brotherhood, and was sentenced to five years in prison, which he had already served in pre-trial detention, plus a fine followed by five years of probation. A six-month prison term was added to his sentence because he could not afford to pay the fine. 
He was finally released on 4 March 2019.
Thank you for taking action!
Our supporters campaigned for years to help free Shawkan, with thousands of you sending him messages of support as part of Write For Rights 2016, and over 30,000 signing a petition for his release.
Activists in 50 different local groups took action on Shawkan's case, holding vigils outside the Egyptian embassy, and helping to organise exhibitions of his photos all across the UK – from Wimbledon to York – many of which were attended by MPs who called for Shawkan's release.
In Scotland, supporters took action on Shawkan's case at 2018's Edinburgh Festival, and activists took 1,460 selfies outside the Egyptian Embassy when he had been in prison for 1,460 days.