Teach human rights with fiction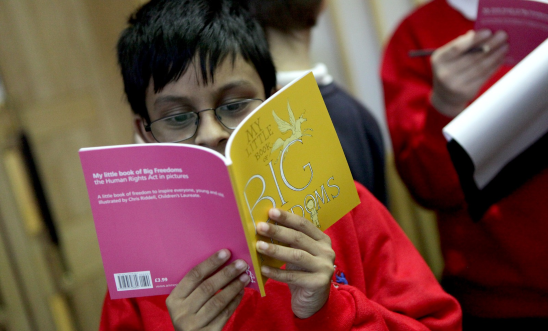 © © Marie-Anne Ventoura / Amnesty International UK
Here you will find free teaching resources to support students to explore human rights through fiction and develop their own writing style.
Each book is accompanied by discussion questions and activities covering discrimination, sanctuary, family, bravery and more.
You can also download or order our Story Explorer resource - this piece of classroom origami will help young people explore human rights themes in fiction with questions designed to promote discussion and critical thinking.
Books and Activities
For Early Years and Primary School (Ages 3+)
For Upper Primary and Lower Secondary School (Ages 10+)
For Secondary School (Ages 12+)
Amnesty and the Carnegie and Kate Greenaway awards
From 2016 – 2018, Amnesty International worked in partnership with CILIP to award the Amnesty CILIP Honour commendation to one book from each of the Carnegie and Kate Greenaway Medal shortlists, that most distinctively illuminated, upheld or celebrated human rights. 
In the anniversary year of the United Nations Convention on the Rights of the Child, CILIP has launched the Shadowers' Choice Award which will be voted for and awarded by the children and young people who shadow the Medals. This fantastic new award upholds children's right to a voice, so from 2019 onwards, Amnesty will no longer award the Honour. Instead, we will focus on strengthening our educational offer for Shadowers, group leaders and shortlisted authors and illustrators. Amnesty will continue to create human rights-based materials for all the shortlisted books to aid reflection and discussion in classrooms and libraries.
Resources to explore the Carnegie and Kate Greenaway awards shortlist