| | | |
| --- | --- | --- |
|   | Throughout August 2013 we were in Edinburgh at the world's biggest festival of free expression reminding people about the importance of free speech. This is what we got up to. |   |

Week one: Secret Comedy Podcasts off to a flying start with Ed Byrne
 

First show done! Watch out for the podcast on Monday and buy tix for tomorrow. #secretcomedy #edfest pic.twitter.com/VReHEUi18J

— The Secret Policeman (@secretpoliceman) August 2, 2013

Hear interviews & stand-up bits from the Edinburgh Comedy Festival with #secretcomedy podcast. @amnestyuk http://t.co/Qfj8ZoipCY

— iTunes Podcasting (@iTunesPodcasts) August 8, 2013

 

— Amnesty UK (@AmnestyUK) August 3, 2013

Amazing opening @AmnestyUK Secret podcast. What a line up! Will be back again, great way to see top #Edfringe acts pic.twitter.com/2Mk8aLRZcX

— Maria F. Williams (@Maria_LaFonda) August 3, 2013

 
 
 
 
 
 
 

Our Secret Comedy Podcast brings together the best comics around to raise awareness of the importance of free speech. It is easy to take free speech for granted, but without it none of these comedians would be able to work and we wouldn't be able to enjoy them.

 

We've a long history of using comedy to raise awareness of human rights and free speech and this year we took it to another level with 15 live shows.

 
 
 
 
 
 
 
 
 
 
 
 
 
 
 
 
 
 
 
 
 
 
 
 
 
 
Week two: Fun and games - New hosts, more guests and football
| | | |
| --- | --- | --- |
|   |   |   |
|   | Week two was our first full week with four podcasts to record, edit and get out the door. Christian O'Connell and Jo Caulfield hosted a stella line up of guests including Mark Thomas, Stephen K Amos, Shirley and Shirley and Michael Che. |   |
|   |   |   |
 
In week two we also hosted the annual critics versus comic football match. Captained by Eric Lampaert the Comics team of Keith Farnan, Daniel Sloss, Kai Humphries, Milton Jones, Matt Winning, Foil, Arms and Hog, Jimoen, and Tom Rosenthal roared to victory over the Critics with an impressive 3-1 win.
 
 
 
 
 
 
 
 
 
 
 
 
 
 
 
 
 
 
 
 
 
 
 
 
 
 
 

Week three: Brining human rights home to the Fringe
 
 
 
 
 
 
Week three brought more shows, more hosts and more great guests. Julian Clary wasn't preforming in Edinburgh this year but he made the trip to host two shows exclusively for us. With guests including Al Murray, Reginald D. Hunter and Alexei Sayle the shows were a sell out.
 
 
 
 
 
 
 

Boarding a train to Edinburgh. Loaded down with yoghurt and Rye bread in case they don't have such delicacies there.

— Julian Clary (@JulianClary) August 16, 2013

Amnesty uses comedy to fight oppression at Edinburgh Fringe Festival http://t.co/DTW9fGAMqH

— Metro (@MetroUK) August 13, 2013

Go on, give it a listen! RT @edinreporter: Alexei Sayle at Amnesty International Secret Comedy Podcast http://t.co/L3Vq5qI1mq

— The Stand (@StandComedyClub) August 19, 2013

 

My pleasure! /RT@secretpoliceman Much gratitude to @LeeCamp for bringing his stand-up to the #secretcomedy podcast pic.twitter.com/ook6L7KGk8

— Lee Camp & MOC Show (@LeeCamp) August 15, 2013

 
 
 
 
 
 
 
 
 
 
 
 
 
 
 
 
 
 
 
 
 
 
 
 
 
 
 
 
 
 
Week four: Riding high in the charts and Freedom of Expression Award
 
 
 
 
 
 

Our Podcast had been steadily riding up the iTunes charts for the past three weeks, but in our final few days we climaxed at number two. Not bad!

 

Our final four shows featured Mark Dolan, Tumi Morake, Barry from Watford, Johnny Walker, Elizabeth McGovan, Tig Notaro, Tanya Lee Davis, Adam Hills and many many more.

 
 

Edinburgh festival: Amnesty Secret Comedy Podcast episode 13, with Ronnie Chieng and Atumi Morake: http://t.co/y4RW9miEkF

— Guardian culture (@guardianculture) August 28, 2013

 
 
 

"@ems_shore: Loving @tumi_morake !!! Amazing guest on the Amnesty Secret Comedy Podcast!!!!" Thank u ma'am. Was honored to be a part of it.

— Tumi Morake (@tumi_morake) August 23, 2013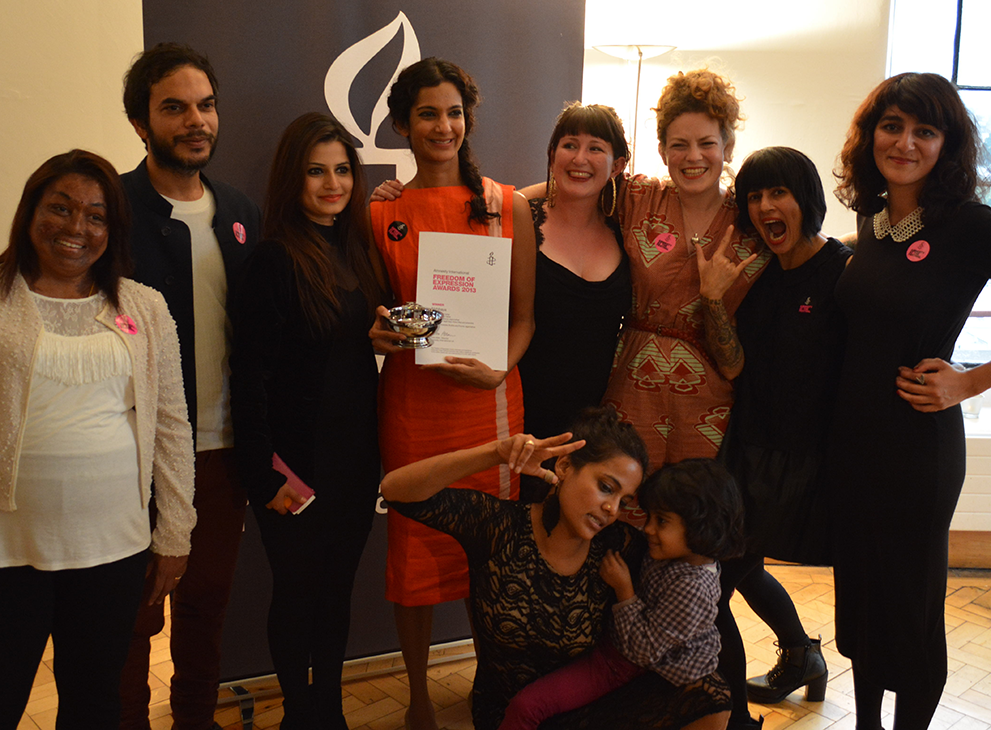 In our final week we also presented our Freedom of Expression Award to the challenging and life-changing play Nirbhaya. The award recognises an outstanding production which raises awareness of human rights or highlights a freedom of expression issue.

Jyoti Singh Pandey, nickname Nirbhaya or 'fearless one', died after being ganged raped on a bus in Delhi last year. In this production Nirbhaya's fearless cast present their personal histories of sexual abuse within the narrative of Jyoti's gruesome ordeal. A very worthy winner.

 
Discover more