Edinburgh Festival: Freedom of Expression Award 2015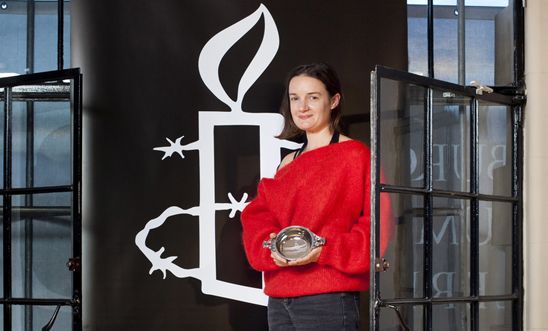 A Girl is a Half-formed Thing actress Aoife Duffin, winner of the 2016 award © Amnesty International
The 2016 award was won by A Girl is a Half-formed Thing, brought to the Traverse Theatre by The Corn Exchange theatre company. The play is acted by Aoife Duffin, who brings multiple characters to life in a fearless story of one girl's upbringing in Ireland.
"A Girl Is A Half-Formed Thing is an incredibly powerful piece exploring the long-term impact of child abuse and rape. The subtext of the misogyny that is at the core of violence against women is powerfully driven home. It was a worthy winner from a shortlist of inspirational, political, topical, and beautifully realised theatre."
Naomi McAuliffe, Amnesty Scotland Programme Director
Our annual Freedom of Expression Award honours an Edinburgh Festival Fringe theatre production of excellent artistic merit that builds understanding and raises awareness about human rights in an inspirational way.
All entries are reviewed by Amnesty Ambassadors and a panel of professional theatre critics.
The 2016 shortlist
A Girl Is A Half-Formed Thing
Counting Stars
Fake It 'til You Make It
Labels
Smash It Up
Tar Baby
Trans Scripts
Read more about these productions
The 2015 longlist
Our panel have longlisted 71 productions they feel are inspiring audiences to think about human rights issues at this year's festival.
12.10.15, Momentum Venues
17 Border Crossing, Summerhall
A Borderless Twitter Ballad Fresh from the Middle East, Summerhall
A Reason To Talk, Summerhall
Antigone Now, Church Hill Theatre
Antigone: An Arabian Tragedy, Greenside
As Is, Bedlam Theatre
Bayou Blues, Venue 13
Bedsocks and Secrets, Spotlites
Bismillah! An ISIS Tragicomedy, Just The Tonic
Black is The Color of My Voice, Gilded Balloon
Bloody Eastern Europeans, Quaker Meeting House
B-Orders, Underbelly
Boxed In, Pleasance Courtyard
By the Bi, Spotlites
Children Must Run, Greenside
Chris Cooke's Free Speech, SpaceTriplex
Cinema, Summerhall
Counting Stars by Aitha Sen Gupta, Assembly
Dark Lantern, Just Festival
Dawns Ysbrydion/ Ghost Dance, ZOO Venues
Death and the Maiden, Royal Scots Club
Denial, Just Festival
Don't Say That, theSpace
E15, Gilded Balloon
Echoes by Henry Naylor, Gilded Balloon
Fake It Until You Make It, Traverse Theatre
Gator Tales, theSpace
Heartbeats and Algorithms, Pleasance Courtyard
Help Yourself, Just Festival
Here Is the News from Over There (Over There Is the News from Here), Summerhall
How to Keep an Alien, Traverse Theatre
Human Resources, Summerhall
I Am, Spotlites
Katie O'Kelly's Counter Culture, Just Festival
Labels, Pleasance Courtyard
Les Inouis, Underbelly
Lost in Transition, Summerhall
Lunch, Just The Tonic
Magdalen, Paradise Green
My Mania, Church Hill Theatre
My Name is Rachel Corrie, theSpace
My Name is…, Summerhall
Ndebele Funeral, Summerhall
Nina Simone Black Diva Power, New Town Theatre
Odd Shaped Balls, SpaceTriplex
Pardon/In Cuffs, Traverse Theatre
Poetry Can F*ck Off, Summerhall
Reclaiming Vietnam, Greenside
Sequamur, Assembly Rooms
Since Maggie Went Away, theSpace
Skins and Hoods, Insitut Francais d'Ecosse
Smash It Up, Summerhall
Some People Talk About Violence, Summerhall
Tar Baby, Gilded Balloon
The American Soldier, ZOO Venues
The Beanfield, theSpace
The Christians, Traverse Theatre
The Dolphin Hotel, theSpace
The Kindness of Enemies, Royal Over Seas League
The Laramie Project, Church Hill Theatre
The Mountain Top, Venue 13
The Star Rover, Spotlites
Theatre Uncut, Summerhall
To Kill a Machine, ZOO Venues
Trans Scripts, Pleasance Courtyard
Undermined, Greenside
Walking the Tightrope: The Tension Between Art and Politics, Underbelly
Where.to, Summerhall
Wilde Without the Boy, Assembly
With Their Eyes: The View from a High School at Ground Zero, theSpace
Previous winners
2014: Cuckooed by Mark Thomas
Cuckooed should be compulsory viewing for everyone in the UK. The show raises timely and very important issues including the erosion of our right to privacy and democratic activism without interference from the state. Ultimately it celebrates freedom of expression - the very reason we created this award.
2013: Nirbhaya by Yael Farber
A searing work based on the horrific rape in Delhi in 2012 silence around women whose lives have been shattered by gender-based violence. Tearing away the shame that keeps the survivors silent, Nirbhaya is a voyage into a tapestry of personal testimonies that speaks for a world no longer able to hold the tides of change at bay.