My story of domestic abuse: the government must act now to protect migrant survivors like me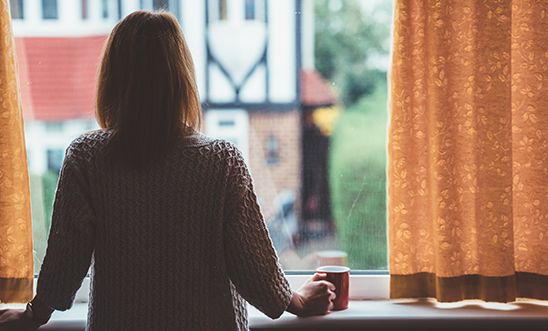 © Getty Images
This piece has been written by 'R', a survivor and campaigner against domestic and sexual violence.
In this unprecedented global pandemic, I can understand why the government is urging us all to stay home.
However, as a migrant survivor of domestic abuse, I know that home is not always a safe place. Abusers frequently isolate victims and can easily exploit the current 'lockdown' measures for selfish gain.
Unfortunately, I am all too familiar with the barriers that prevent many women from fleeing their abusers and securing their personal safety.
Thankfully, I was able to escape. But others haven't been so lucky – and won't – unless the government acts quickly to ensure that all women are able to get the help they need, regardless of where they're from.
My story of domestic abuse in the UK
Due to costly and complex immigration requirements, my British partner and I lived in different countries for the first two years of our marriage. When I finally arrived in the UK, I was looking forward to building our lives together.
Then the abuse began. My husband's gaslighting techniques made me question reality and his attempts to isolate me from friends and family left me feeling incredibly lonely.
Although I was the primary breadwinner, he prevented me from opening my own bank account, and spent the majority of my earnings behind my back.
Over time, the abuse escalated. He was often physically violent, and I could never predict what would set him off next. Once he started resorting to sexual abuse, I was left terrified and traumatised.
After he threatened to have my visa cancelled and kick me out of our home, I knew that I had to get out.
My immigration status took precedence over my safety
However, as a migrant survivor, I understood that leaving was almost impossible. 
As I had arrived in the UK on a spousal visa, I had no recourse to public funds or services, and was therefore barred from accessing refuge and other crucial support.
I was afraid that my ex-partner would revoke my right to stay in the UK at any time – and the prospect of detention and deportation was constantly hanging over my head.
Finally, without assistance, I moved to private rented accommodation and opened a bank account. Thankfully, I secured legal representation to apply for indefinite leave to remain as a victim of domestic violence. Whilst I'm grateful that this application was available to me, having arrived on a spousal visa, many survivors on other visa categories do not have access to this route and face further obstacles as a result.
Meanwhile, despite the economic abuse I'd experienced, I didn't qualify for legal aid and/or a fee waiver and was forced to pay the £2,389 fee for my application, in addition to legal costs.
To make matters worse, the Home Office retained my identification documents for the duration of processing, so I was unable to demonstrate my right to rent and work in the UK. Despite paying for NHS access twice, GPs refused to register me without ID. Then I suddenly lost my job and the financial independence that came with it.
Eventually, I decided to report my abuser to the police. Despite professional determinations that I was at 'high risk of serious harm or homicide', the police failed to investigate my case properly or implement meaningful safeguarding measures to protect me. Instead, officers suggested that I return to my country of origin.
Unfortunately, I know that my experience is not unique.
The Coronavirus pandemic means that urgent change is necessary
Current 'lockdown' measures have made it even more difficult for women to obtain life-saving services.
Without access to refuge and housing support, migrant survivors remain trapped inside all day with their abusers.
Due to Hostile Environment policies, they are often terrified of accessing healthcare and/or reporting to the police for fear that their information will be shared with the Home Office for immigration enforcement purposes.
Whilst all victims should be able to report their abuse, it is incumbent upon the government to remove the barriers that prevent migrant women from feeling safe in doing so. As I know too well, some of these urgent remedies include scrapping the 'no recourse to public funds' rule and imposing a data-sharing 'firewall' between the Home Office and public services.
Ultimately, everyone has the right to live free from domestic abuse.
Previous reports have indicated that more than two women lose their lives each week in England and Wales as a result of this heinous crime. These statistics have already increased dramatically in the context of the government's 'lockdown' measures.
That's why I've been campaigning alongside the Step Up Migrant Women coalition to secure equal protection for all survivors – regardless of race, ethnicity, nationality, or immigration status.
You can help make this a reality by calling on the government to take urgent action to ensure that migrant survivors like me get the help they need.
Our lives literally depend on it.