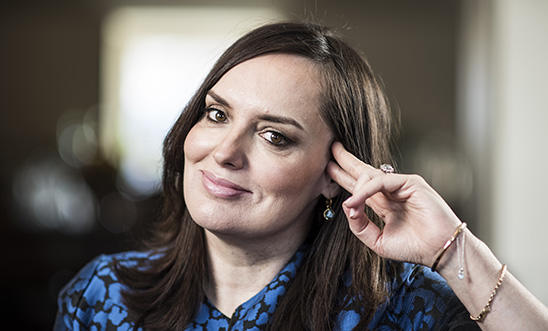 'I had a very happy childhood until my family became Jehovah's Witnesses when I was 14. That's the reason why I'm a feminist. I was in a patriarchy that was extremely controlling and exclusively run by men. They decided what was right, and what was wrong. There was a lot of misuse of power; women were never asked to contribute. So when I was able to break free from that, I said: Right, I'm going to live in a world where women fight for rights.'
— Deborah Frances-White
Deborah Frances-White is a comedian whose BBC Radio 4 series, Deborah Frances-White Rolls the Dice, won The Writers' Guild Award for Best Radio Comedy in 2016. Her second series has recently aired.
Her comedy podcast The Guilty Feminist has had over 50 million downloads in 20 months and has been recorded live in the U.K., Australia, Denmark and the US. She also hosts the diversity based comedy panel show podcast, Global Pillage.
Deborah is a screenwriter whose had had commissions from the BBC and Channel 4. Her first feature film, Say My Name, was filmed in 2017. Deborah's book, 'The Guilty Feminist' was published by Virago in September 2018 and is a Sunday Times Bestseller. She co-wrote The Improv Handbook which is a theatre best seller and has just gone into second edition and Off the Mic which was nominated for a 2017 Chortle Award. Deborah regularly speaks in business about diversity and inclusion.
About Amnesty Ambassadors
Amnesty Ambassadors are made up of profile individuals from a broad range of disciplines. Using their profile and networks our Ambassador's allow us to educate, amplify and inspire more and more people to join the fight for human rights.