The deadly side of the Rio 2016 Olympics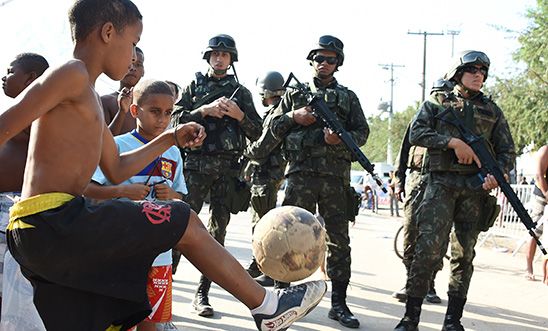 Brazilian soldiers provide security in the Mare favela in Rio de Janeiro, 2014. © Vanderlei Almeida/AFP/Getty Images
The city of Rio de Janeiro will soon be home to the Olympic Games in August 2016. But there is a darker side to the glitz and glamour of this year's host nation.
Of the 56,000 homicides in Brazil every year, 30,000 are young people aged 15 to 29.
The police are responsible for a significant percentage of the people killed in Rio. One in five people killed in the city died as a result from police interventions in 2015. The majority of those were young, black men.
In reality, the numbers could be much higher as some killings aren't officially registered as being a result of police intervention. This was the case with 10-year-old Eduardo de Jesus, who was shot dead by the police on 2 April 2015.
When the world is watching
We have seen how major sporting events tend to increase human rights violations that already occur in the host city or country – and Brazil is no stranger to this.
During the 2014 World Cup in Brazil, at least 580 people were killed in Rio alone.
When Rio was awarded the 2016 Olympic Games seven years ago, the authorities promised to improve security for all. Instead, we have seen 2,500 people killed by police since then in the city and very little justice.
Now, with the Games fast approaching and the same ill-conceived security policies in place which led to a sharp increase in homicides, Brazil must do more to ensure that history does not repeat itself.
Shoot first, ask questions later
So far this year, more than 100 people have been killed in Rio. The vast majority of the victims were young black men living in favelas or other marginalised areas.
Around 65,000 police officers and 20,000 military soldiers are being deployed to guard the Olympic Games, in what will be the largest security operation in Brazil's history. It will include using military personnel to direct operations in favelas, which in the past has resulted in a catalogue of human rights violations that are yet to be properly investigated.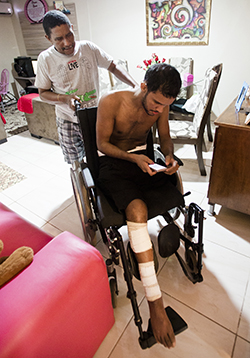 The case of 30-year-old Vitor Santiago Borges highlights the tragic consequences of military policing in favelas.
In the early morning of 13 February 2015, Vitor was driving back home with some friends when the armed forces opened fire on his vehicle without any warning.
Victor was severely wounded, fell into a coma and had to remain in hospital for more than three months. He is now paralysed from the waist down and had a leg amputated. The authorities have failed to provide him or his family with adequate assistance or to conduct a full and impartial investigation into the shooting.
No one has been held to account so far.
Five boys, 111 bullets
Last November, five friends – all young, black men aged – were in a car, driving somewhere to have dinner after spending the day together. As they drove, four police officers fired a total of 111 shots at their car, killing all five men.
The police officers had surrounded the car, firing at it from all angles. There is also evidence to indicate that they later manipulated the crime scene by placing a gun near the car in an attempt to justify the killings.
What we're calling for
As Brazil gets ready to host the Games, the risk of repressive policing which targets a generation of young, poor, black men increases.
The Brazilian authorities are failing to deliver the promised Olympic legacy of a safe place for all – we're calling on them to:
Ensure that the rights to freedom of expression and peaceful assembly are fully respected and protected by the police
Guarantee a timely, thorough, impartial and independent investigation of cases of human rights violations, especially killings by law enforcement officials
Provide full psychological and social assistance for victims of homicide and their families