A deadly force: Police violence in the USA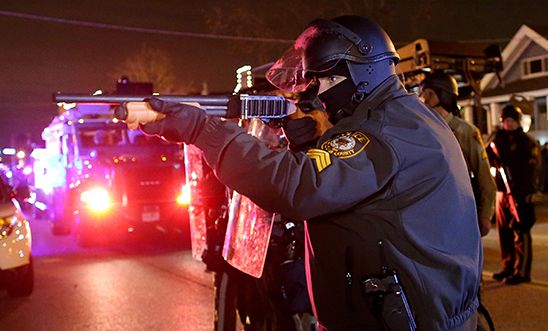 A police officer points a shotgun at protestors during a demonstration on 24 November 2014 in Ferguson, Missouri © Justin Sullivan/Getty Images
Hundreds of men and women are killed by police every year across the United States.
No-one knows exactly how many because the authorities do not count how many lives are lost.
From what information we do have, it seems that African American men are impacted the most by police use of lethal force. But many African American women have also died at the hands of the police.
Just ten days after Michael Brown, an unarmed black teenager, was fatally shot in Ferguson, Missouri, St. Louis police officers shot and killed a young black man, Kajieme Powell, 25, who was reportedly holding a knife. Police claims that he was brandishing a knife were not upheld by the available video footage of the shooting. 
These high-profile cases and the ensuing violent clashes brought the issue to the world's attention, highlighting the pattern of racial discrimination and an alarming use of lethal force by US police officers.
Read our full report on police use of lethal force 
Fighting for justice
For the first time on US soil, we sent a team to observe human rights abuses during the protests between police and the St Louis community.
The police response was heavy-handed and violent. Brutal methods such as tear gas and rubber bullets were used to suppress the protests.
Teargassed and aimed at, 'safe spaces' raided. Our #humanrights observers are in #Ferguson http://t.co/JVuC7CM91D pic.twitter.com/Fj1DpK2RTk

— Amnesty UK (@AmnestyUK) November 25, 2014
Every state is failing
All 50 US states and the District of Columbia fail to comply with international standards on police use of lethal force.
Thirteen states also fail to meet the lower standards set by US constitutional law on the use of lethal force by law enforcement officers, while nine states and the District of Columbia have no laws at all on the use of lethal force – including Maryland, Massachusetts, Michigan, Ohio, South Carolina, Virginia, West Virginia, Wisconsin and Wyoming.
By the numbers: US police kill more in days than other countries do in years http://t.co/rpQcilWWx1

— The Counted (@thecounted) June 9, 2015
Deaths and injuries at police hands are not even being properly tracked at present. Estimates of people killed annually by law enforcement range from 400 to 1,000.
'The fact that absolutely no US state laws conform to this standard is deeply disturbing and raises serious human rights concerns. Reform is needed and it is needed immediately. Lives are at stake.'
Steven W Hawkins, Amnesty International USA Executive Director
What we're calling for
A nationwide review of lethal force laws, policies and training is urgently needed.
We're calling on the President and the Department of Justice to create a national task force to carry out this review and institute comprehensive reforms, including of oversight and accountability mechanisms.