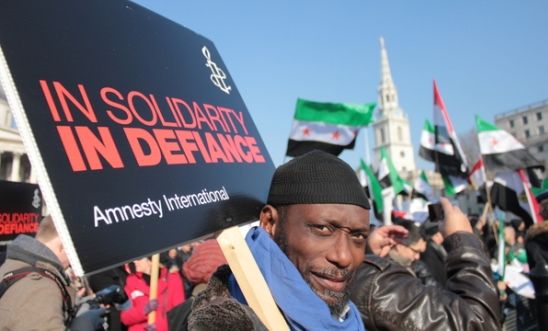 Action Day for Syria, Trafalgar Square in London, UK. © Manuel Gago
Our Campaign for International Justice demands justice, truth and full reparations for victims of human rights violations.
We want to ensure no-one who commits crimes under international law – genocide, war crimes, torture, extrajudicial executions and enforced disappearances – believes they are untouchable.
Why do war crimes go unpunished?
In recent history, millions of crimes against humanity have been ignored by national authorities. Discrimination against victims, damaged justice systems, political efforts to move forward without addressing the past are just a handful of reasons for this impunity.
The result? Perpetrators have been free to plan and commit horrific crimes safe in the knowledge that they will not be held to account. Victims, their families and their communities are left to suffer when national authorities fail to act.
The stakes are high. That's why we're demanding that those authorities take act to ensure:
Justice: by investigating all crimes and, when there is sufficient evidence, prosecuting the suspects in fair trials with no recourse to the death penalty; or extraditing suspects to states able to do this.
Truth: by establishing and acknowledging the facts about the crimes.
Full reparation: by taking effective measures to address the suffering of victims and their families and to help them rebuild their lives.
Progress so far…
Over the past two decades, our campaigning has led to the establishment of the International Criminal Court. We believe it's the world's best chance of ending the worst crimes known to humanity and delivering justice for the victims.
Other international courts have also been set up in several situations, including Cambodia, the former Yugoslavia, Rwanda, Sierra Leone and Timor Leste.
What we want to see
International justice will face tough tests and political attacks as it challenges the entrenched trends of impunity. The challenge now is to ensure that this new international justice system succeeds in practice.
Your support can help us ensure:
more states to commit themselves to international justice by ratifying the Rome Statute of the International Criminal Court
governments and intergovernmental organisations to provide the International Criminal Court and other courts investigating and prosecuting these crimes with full cooperation and support
more national authorities to exercise universal jurisdiction to ensure their countries are not safe havens.