This Father's Day, send a message of support to Raif Badawi and his family
"We are waiting for the day when your flight will land in Montreal. You will see me waiting for you and crying. I won't stop until you have taken me in your arms and dried my tears."
Doudi, Raif Badawi's son
Ten-year-old Doudi and his two sisters live in Quebec. They haven't seen their dad for years. While many children are separated from their parents, the reason for Doudi's dad's absence is probably not that common. Three years ago, his father, Raif Badawi, was arrested by authorities in their Saudi Arabian home for insulting the ruling regime.
When Raif was arrested in 2012, his wife and children sought asylum in Canada, with the hope that Raif would soon join them, but their hopes were not realised. Raif was sentenced to a decade in jail and 1,000 lashes for running his website Saudi Arabian Liberals. The family faced the prospect of a decade apart, knowing that their government wanted to publicly torture Raif and make an example of him for anyone who considered questioning the authority of the Saudi Arabian regime.
Raif has served one year of his prison sentence so far: there are nine more to go. Further to that, he faces 950 public lashes, 50 every Friday. Thankfully, Raif was not flogged yesterday, but the weekly threat of public flogging after Friday prayers in Jeddah hangs over him and his family constantly.
Meanwhile, Doudi and his sisters continue to hope for their dad's release. Doudi told us that they plot to get their dad out of prison. Younger sister Myriam wants to 'go to Saudi Arabia and smash the prison' because, she says, "Papa has to come back home."
Tomorrow is Father's Day here in the UK and in Canada. My heart goes out to Raif Badawi's children. It must be especially difficult this weekend to have to see the copious adverts for a celebration that you wished you could take part in, with your dad.
"I love you because you are helping my dad"
Doudi sent us this drawing after his dad's case made headlines around the world. It says "Je vous aime parce que vous aidez mon papa" - "I love you because you are helping my dad".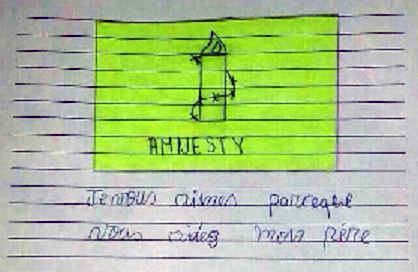 When Raif was flogged 50 times publicly in January this year, Raif's wife, Ensaf, said that she told their children about the gruesome punishment so they wouldn't find out from friends at school. They still don't fully understand how long Saudi Arabian authorities intend to keep them apart from their dad, according to Ensaf – the children keep asking when he's coming to join them in Quebec.
Considering that Raif has been sentenced to a decade-long travel ban after his decade in prison, if Saudi Arabian authorities have their way Raif's children will be in their twenties and thirties before they are reunited with their father.
We need to keep showing our support for Raif's freedom
Raif's sentence of flogging for blogging continues to make headlines around the world. Over a million people signed our petition for his release in January alone; Amnesty has held demonstrations for his release in countries around the globe; we've regularly raised his case with the UK government.
Raif's lashes have repeatedly been halted since January – perhaps in response to international outcry – but the worldwide campaign to free Raif has not yet succeeded. He is still in prison, facing weekly lashes. We won't stop calling for his release until he is freed.
Ensaf told us that your support means the world to Raif and the family. His kids are aware of it too.
"When mum told me you were in prison because of your beliefs I looked up your name on Google and was surprised by all the support you were receiving from everybody."
Doudi to his father, Raif Badawi
Ensaf is leading a strong campaign for her husband's freedom, but the family struggles without him: "Raif has always meant everything to me and the kids; he is a father of three angels and a great husband. I can never describe how much we miss him".
Thank you for your messages
Over 5700 of you wrote to Raif and his family on Father's Day. We will pass your messages on to Ensaf and the family, who we know appreciate your support.
About Amnesty UK Blogs
Our blogs are written by Amnesty International staff, volunteers and other interested individuals, to encourage debate around human rights issues. They do not necessarily represent the views of Amnesty International.
View latest posts