Student activists boost campaign skills at AIUK HQ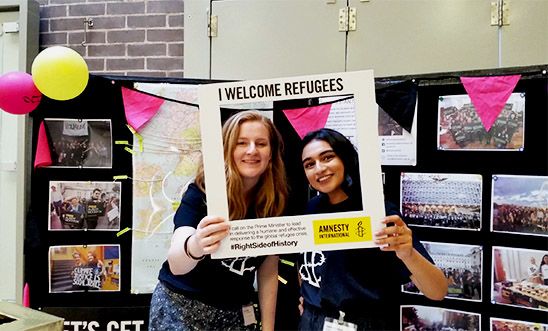 This is a guest post by Zara Ahmed —  Psychology Student at Lancaster University and STAN committee member for the North West of England
This June, the Student Action Network (STAN) Committee hosted the annual Action for Change event. A jam-packed day filled with workshops and training sessions, the event enabled student groups to prepare their campaigning and fundraising goals for the year ahead.
Kick-off and networking
We kicked off the event with a talk by the AIUK Director, Kate Allen, who spoke about the merits of student activism. Kate mentioned how the campaigning successes achieved by students allows AIUK to be a powerful force for change. This is especially true when influencing politicians and lawmakers across the world.  Students also had the chance meet fellow activists and build partnerships with groups at different Universities.
Panel discussion
Action for Change is an opportunity to meet with Amnesty staff and fellow activists, often for the first time. AIUK Campaign Managers spoke about issues ranging from Crisis and Tactical Campaigning, to the nature Human Rights in the UK. This panel discussion and Q&A enabled us to see just how vital the campaigns run by students at their Universities are.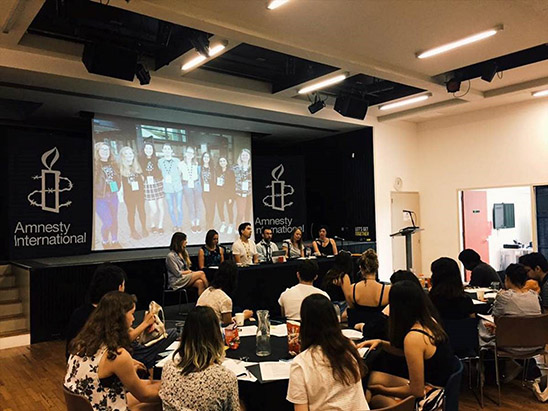 Spotlight
Leila Zadeh, Executive Director of UK Lesbian and Gay Immigration Group, presented the Spotlight talk. Leila spoke about how more action is needed to protect the human rights of vulnerable groups seeking asylum in the UK. In this way, we were able learn about a pressing matter that is often not explored elsewhere.
Training
STAN ran great workshops and activities. Here you could learn anything from writing press releases to engaging with your local MP. In a session after lunch full-time AIUK staff set up skill sharing stalls and there was a competition to win a social media training day with Jellyfish Training for the person who could craft the best social post.
STAN passed on the advice and knowledge gained from being lead AIUK activists and engaged members of Amnesty groups themselves. They weren't the only ones with stories to share. Bath University told us how they pulled off a fab "Jamnesty" music night and raised a splendid £2680. Not bad, eh?
Wrap-up
Feedback from the day was positive all-round. Those attending felt able to use their training to run brilliant campaigns on their campuses next year. All this activism and skill-sharing will continue with the Student Conference in November. A two-day event with even more workshops, special guests and plenty going on – it's going to be a cracker!
About Amnesty UK Blogs
Our blogs are written by Amnesty International staff, volunteers and other interested individuals, to encourage debate around human rights issues. They do not necessarily represent the views of Amnesty International.
View latest posts