Scotland moves towards legal gender self-declaration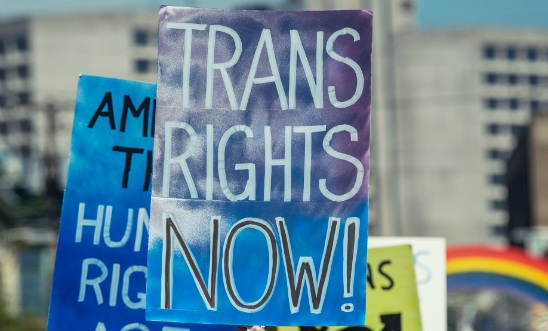 This blog was written by Jennie Joy, committee member of Amnesty UK's LGBTI Network and lead for the network's presence in Scotland. 
The Gender Recognition Act
In the UK, you can only legally change your gender by applying for and obtaining a Gender Recognition Certificate (GRC). It's not possible to do so by changing your gender on your driver's license or passport, for example. What the Gender Recognition Act 2004 ('the Act') does is allow individuals to apply for a GRC, giving them the ability to legally change their gender in the eyes of the state. The Act as it currently stands, however, is woefully out of date. At the moment, trans people have to endure a highly medicalised and bureaucratic process to change their gender.
Under the current Act, individuals applying for a GRC by the standard route must have lived in their acquired gender for two years. Essentially, they have to provide evidence that they socially transitioned at least two years before applying (an example of the type of evidence provided is bank account information, showing you have changed your name). Surgery is not a requirement, however those applying must also provide two separate medical diagnoses, from a GP and from a gender specialist, to 'prove' they are suffering from gender dysphoria. It should also be noted that there is no provision for legal recognition of non-binary genders under the 2004 Act. Now, this is by no means an exhaustive list as to what needs to change about the Act, but it is what this blog post will specifically focus on.
Reform
Although we still see the UK government dragging its heels in updating the Act, the Scottish government announced in November 2017 that they would be reviewing and reforming it, so that it is in line with international best practice. This is good news.
Holyrood's suggested reforms include scrapping both of the requirements noted above, as well as potentially including non-binary identities and lowering the minimum age of applicants from 18 to 16. Broadly, the Scottish government wants to move from an assessment-based path for gender recognition - requiring external assessment of identity - to a system of self-declaration.
Does this mean that it will change for England and Wales?
Gender recognition is a devolved matter, meaning that the Scottish government has relative autonomy in the area. Unfortunately, this consultation is for a change only to the Scottish Act. Justine Greening, Minister for Women and Equalities, laid out an agenda in July 2017 that included reform of the Act for the rest of the UK, promising a consultation in the autumn. This has not yet appeared, but a positive consultation response from Scotland can only help the matter.
You can have your say!
A public consultation, which seeks views on whether and how the Act should be amended in Scotland, has been opened to the public until 5pm on the 1st March 2018. The consultation is not limited to Scottish residents, so responses are welcome from anywhere in the world. The Scottish Trans Alliance has an incredibly helpful website with advice on answers where necessary.
We on the Amnesty UK LGBTI Network Committee believe that individuals should have access to legal recognition of their gender via a simple administrative process and without having to prove anything or convince anyone. Gender is self-identified and no one should go through any degrading or humiliating processes which far too many people are subject to within the current system.
We welcome the Scottish government's proposals to move to a system of self-declaration. However, the more consultation responses we can get in support of doing so the better the chance of achieving a positive change. Here we have a chance to help change the law and support the rights of trans and non-binary people living in Scotland. Let's not waste it.
You can find the consultation portal to submit your thoughts here.
Are you a member of Amnesty UK's LGBTI Network? If not, you can sign up for free here. We'd love to have your support. 
About Amnesty UK Blogs
Our blogs are written by Amnesty International staff, volunteers and other interested individuals, to encourage debate around human rights issues. They do not necessarily represent the views of Amnesty International.
View latest posts