Key facts about gun violence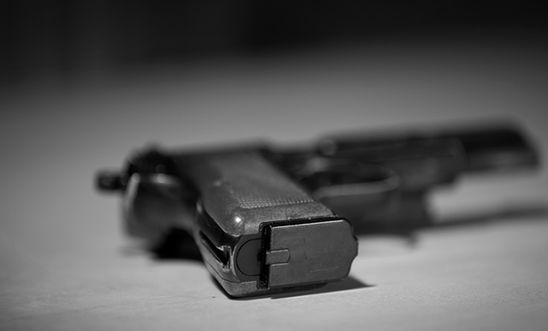 Handgun © Amnesty International
Gun violence is a daily tragedy that affects the lives of individuals around the world, in some instances disproportionately impacting communities of colour, women and other marginalised groups.
Easy access to firearms – whether legal or illegal – is one of the main drivers of community-wide gun violence. Governments must use common-sense gun reform to stop the violence and protect people's rights. No one's human rights can be considered secure if our leaders fail to do anything about gun violence.
How many people die from gun violence worldwide?
More than 500 people die every day from gun violence
44% of all killings globally involve gun violence
There were 1.04 million firearm-related deaths globally between 2012 and 2016
The majority of victims and perpetrators are young men, but women are particularly at risk of intimate partner firearms violence, and sexual violence can also be facilitated by firearms.
What's the effect of gun violence on people's lives?
An estimated 2,000 people are injured from gunshots every single day.
At least 2 million people are living with firearm injuries around the globe.  
Millions of more people suffer the severe psychological effects that gun violence – or the threat of gun violence – brings to individuals, families and their wider community.
Why is gun violence a human rights issue?
Gun violence is a global human rights issue.
Gun violence can lead to a violation of the most fundamental human right – the right to life. Countries have an obligation to protect people from gun violence by taking measures to combat actual or foreseeable threats to life.
Firearm violence impacts on other human rights by creating a culture where people do not feel safe, denying them the right to personal security. In turn, this fear can undermine rights of freedom of expression and peaceful assembly. When communities are blighted by persistent gun violence, basic services such as health and education can suffer.
Where does gun violence happen?
Gun violence is particularly prevalent in the Americas where easy access to firearms, weak regulation or poor implementation of laws designed to combat firearms violence prevail. In Latin America and the Caribbean, corruption, organized crime and a dysfunctional criminal justice system further fuel the problem.
Percentage of killings committed with firearms:
72% in Brazil
91.1% in El Salvador
58.9% in Honduras
Among wealthier, developed countries, the USA is an outlier. Wide access to firearms and loose regulations lead to more than 30,000 men, women, and children being killed with guns each year in the USA. Communities of colour are disproportionately impacted by gun violence on a daily basis, with African Americans being 10 times more likely to be victims of gun homicides than white Americans.
How many guns are produced every year globally?
There are 8 million new small arms and up to 15 billion rounds of ammunition produced each year.
The small arms trade is worth an estimated US$8.5 billion per year.
What does Amnesty do about gun violence?
We've been focussing our work on domestic gun reform and gun violence prevention by campaigning for regulations on firearm use and possession and supporting evidence-based violence reduction programmes in communities where there is a persistently high level of firearms violence. We're also working to stop firearm exports to crisis zones where arms risk being used for serious human rights violations.
Along with several other organisations, we successfully campaigned for a global Arms Trade Treaty (ATT) which became international law in 2014. Every state that has ratified the ATT must follow strict rules on international arms transfers.
We continue to campaign for international compliance with ATT which will stem the flow of weapons that fuel violations in conflicts, atrocities and state repression around the world.
Does gun reform work?
Yes, it does. Almost all states regulate gun acquisition, possession and use in some form. Most do this by licensing users and registering firearms.
Gun reform works in parts of the world where there are strict controls on access to firearms and well enforced firearms regulations. This is the case for much of Western Europe, Australia, New Zealand and parts of Asia. For example, in Japan, South Korea and Singapore, the rate of firearm violence is extremely low.
What can we do to stop and/or reduce gun violence?
Governments have a legal obligation to protect the right to life, and accordingly a responsibility to protect people from firearm violence. We have to remind them of this by demanding reform.
By standing up and reminding our leaders of their obligation to keep us safe, you can play a crucial role in campaigning and protesting to make it clear to governments that the poor regulation of the possession and use of guns leads to violence – only through strict controls on guns and effective interventions in communities suffering high levels of gun violence can we live in safely and without fear.   
About Amnesty UK Blogs
Our blogs are written by Amnesty International staff, volunteers and other interested individuals, to encourage debate around human rights issues. They do not necessarily represent the views of Amnesty International.
View latest posts