Campaigning for truth for Giulio Regeni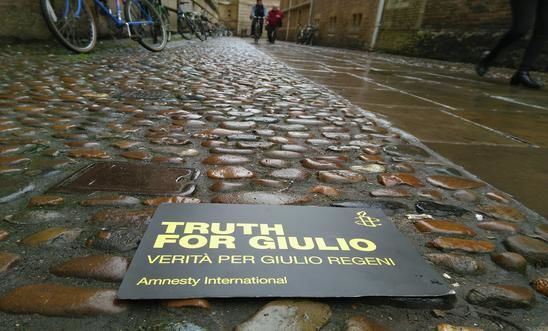 The streets of Cambridge will never be the same.
I am not saying this facetiously. In my mind they have changed since Italian PhD student Giulio Regeni was tortured and murdered two years ago in Cairo, Egypt. He walked the streets that I walk. As an Amnesty activist I never thought that I would be campaigning for justice for a victim of grave human rights abuse who called Cambridge home just like me.
Amnesty has always been part of my life since I moved to Cambridge 20 years ago. One of the first cases that I campaigned for was Dita Sari, an Indonesian trade unionist who was sentenced to five years imprisonment in 1996 on the charge of sedition. When she was released in 1999, two years earlier than her original sentence, I celebrated along with other Amnesty friends and knew we had made a real difference together.
Making a difference was why I remained active and for that reason I was never too sure about putting my energy into campaigning for people who couldn't be freed, such as victims of killings and enforced disappearances. A conference on this topic changed my views however.
Family and friends of people who have disappeared experience slow mental anguish. Searching for their loved ones can put the whole family in danger while, if the breadwinner was disappeared, the family can face terrible financial problems too.
The issues go beyond individual cases. Enforced disappearance is frequently used as a strategy by dictatorial regimes to spread terror within society. The feeling of insecurity and fear it generates is not limited to the close relatives of the disappeared, but also affects communities and society as a whole. There can never be justice in an environment that favours impunity – and families, communities and whole countries can never simply 'move on' until the truth is known and justice has been done.
About six months ago I asked several Amnesty Country Co-ordinators for information about any disappearance cases. The Tunisia country co-ordinator told me about a murdered student for whom she'd been campaigning since 1992.
In October 2016 Amnesty launched another action marking 25 years since the torture and death in custody of Faysal Baraket, a 25-year-old Tunisian student and member of the Ennahda party, which was banned under the rule of former President Zine El Abidine Ben Ali. A year ago a Tunisian court indicted 21 individuals for the torture and death of Faysal. The road to justice has only just started, with many appeals and courts hearings to come. Most importantly, though, it has finally started.
Don't be mistaken, these cases are also seen and heard by today's torturers and dictators. The thought that in 20 years' time they may face a judge because of the crimes that they are committing today will no doubt sit very uncomfortably with them.
As human rights activists we never know when or if justice will be done, but we do know that while we are campaigning we are not only supporting family members, we are also making regimes aware that we are watching.
When some ten years ago we started a campaign for Ebrima Manneh – a Gambian journalist who disappeared after being arrested in July 2006 – someone I knew was really impressed. Being a Gambian refugee himself, he eagerly took some action cards from me and told me that these kind of campaigns send shockwaves through the ranks of Gambian torturers. He said that the campaign was protecting many others. I am sad to tell you that we still don't know what happened to Ebrima, but our activism has no doubt made an impact even though it is difficult to measure how much.
So this then brings me to the Truth for Giulio Regeni campaign. Two years ago he disappeared and his tortured body was found. I have met family and friends of Giulio and their loss is deep, without end and unimaginable. Many of us have been touched by what happened to him, even if we didn't know him.
It feels at times that we are no closer to justice than we were two years ago, but don't be mistaken. The first very important stages of collecting evidence and launching a global campaign have been completed. We do not know how long it will take. Al-Sisi may remain in power for many more years, and his regime may block justice.
The perpetrators of his torture and murder hope we will forget and will stop campaigning – but how can we? Through our campaign for Truth for Giulio we continuously raise awareness of how endemic the practice of torture and enforced disappearances is in Egypt. We campaign too for people like photojournalist Shawkan, and Aser Mohamed who was 14 when disappeared and forced to confess by torture.
Through our campaigning for Truth for Giulio we will continue to support his family and friends. Every day will bring us closer to justice and an end to impunity. We may have to wait for regime change, we may have to wait many, many more years, but we will not forget.
We have become witnesses. We will keep passing on what we've learned. Until that day, which will come, when we will know what happened to Giulio Regeni and justice will be done.
About Amnesty UK Blogs
Our blogs are written by Amnesty International staff, volunteers and other interested individuals, to encourage debate around human rights issues. They do not necessarily represent the views of Amnesty International.
View latest posts