Brazil: The fishermen in Guanabara Bay
In December 2012, Amnesty International Brazil organised an event alongside the Brazilian Canoe Championships to demand justice for the fishermen of Guanabara Bay.
Since 2009 the fishermen of Guanabara Bay, known as the Association of Men and Women of the Sea (AHOMAR), have been campaigning to protect their livelihoods and the environment against the installation of a petrochemical complex in the area.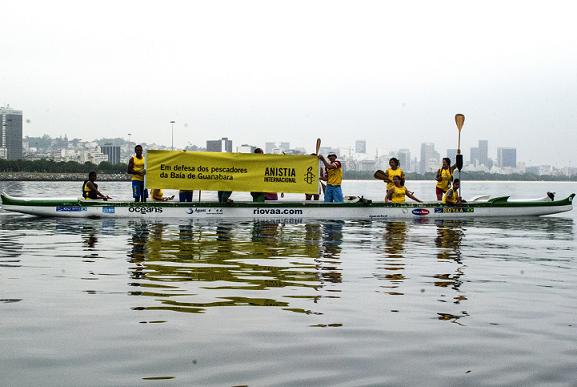 Two members of the AHOMAR have already been shot dead and another two were found drowned.
The president of AHOMAR, Alexandre Anderson, has survived six attempts on his life and he and his wife Daize receive constant threats.
In August 2009 they were both included in the federal Human Rights Defenders programme. However protection was only partially implemented. 
Amnesty Brazil continues to call for them to be properly protected by the authorities and for justice for all the fishermen of Guanabara Bay.
Read more on Amnesty Brazil's blog (Google translated)
About Amnesty UK Blogs
Our blogs are written by Amnesty International staff, volunteers and other interested individuals, to encourage debate around human rights issues. They do not necessarily represent the views of Amnesty International.
View latest posts