Human rights heroes of 2017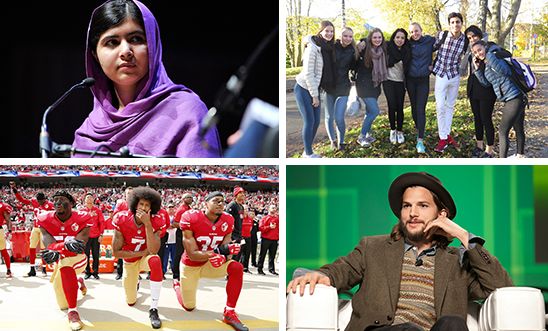 So. 2017. Quite a year, right? For all the really, really, really bad things that went down, some good ones happened too. And leading them were inspirational people doing their part to push us one step closer to fairness, equality and justice. Here's a month-by-month run-through of some of our top human rights heroes from the past year.  
January – 5 million of you at the Women's March
On 21 January, millions of people around the world marched together to show the newly-elected US president Donald Trump that his shameful attitude towards women would not be tolerated. If you need proof that the politics of hate, fear and division will never win, just look at the awe-inspiring coverage of the 600+ marches that took place worldwide. Together, we sent the resounding message to Trump that women's rights are most certainly human rights.
WHAT. A. DAY. Thank you so much to everyone who turned out to reject fear and stand up for human rights. You're all amazing! ? #WomensMarch pic.twitter.com/B7i03q3I4k

— Amnesty UK (@AmnestyUK) January 21, 2017
Great to have Meera Syal and Phoebe Waller-Bridge on board! #womensmarchlondon #WomensMarch pic.twitter.com/DWLO1mn7DP

— Amnesty UK (@AmnestyUK) January 21, 2017
February – Ashton Kutcher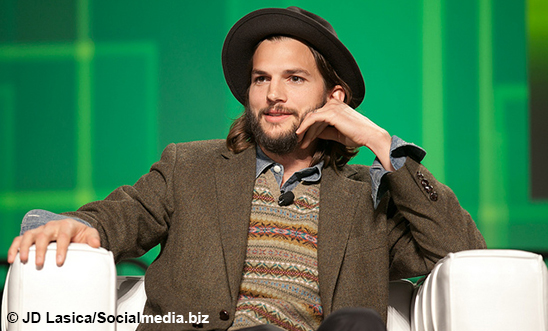 In February, actor and entrepreneur Ashton Kutcher gave an impassioned speech to the US Senate about the work his company, Thorn, does to protect children from human trafficking and sexual exploitation. A visibly emotional Kutcher made recommendations for how the technology his company develops can be used to put an end to modern-day slavery, as well as seeking funding and support for Thorn to continue its vital work. 'Technology can be used to enable slavery', he said in his statement, 'but it can also be used to disable slavery. And that's what we're doing'.
March – Enda Kenny 
In a year that's repeatedly threatened the movements of people from mainly Muslim-majority countries with discriminatory travel bans, there have been plenty of people refusing to accept these dangerous attitudes as the new normal. Enda Kenny, former Irish Prime Minister, is one of them. To celebrate St Patrick's Day, Kenny was invited to the White House where he gave a speech, with Trump lurking just feet away from him, describing how millions of persecuted Irish immigrants had made America their home. A true hero in our eyes.  
"We were the wretched refuse on the teeming shore" Irish PM speaks of millions of persecuted Irish immigrants who made America their home pic.twitter.com/KAmuCg7tiA

— Amnesty UK (@AmnestyUK) March 17, 2017
April – Malala Yousafzai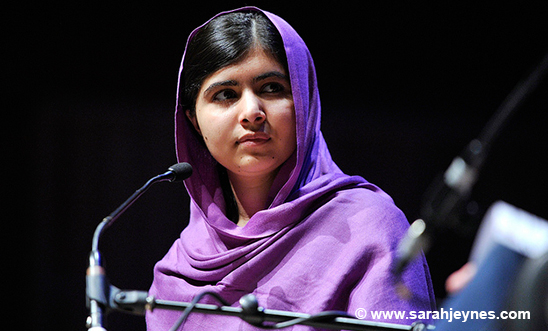 Arguably one of the most influential activists of our time, Malala Yousafzai became the youngest ever UN Messenger of Peace this spring. Following her attempted murder aged just 15 by the Taliban for campaigning for girls' education rights in 2012, Yousafzai has been the recipient of many important accolades including the Nobel Peace Prize and Glamour's Woman of the Year. Accepting her UN Messenger of Peace award, Yousafzai said that 'bringing change starts with us and it should start now.' Wise words for us all to live by.
May – Chelsea Manning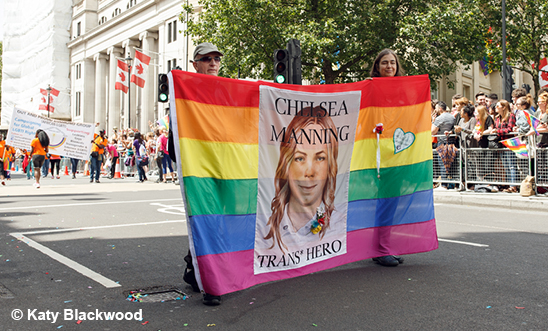 Trailblazing whistleblower Chelsea Manning walked out of prison a free woman in May, after seven years in detention. She changed the face of whistleblowing when she was the source of the biggest military leak in history in 2009. Without her, there would be no Snowden revelations, and no knowledge of the shocking and widespread mass surveillance of citizens around the world by their governments. Originally incarcerated until 2045, former US president Barack Obama commuted Manning's sentence three days before he left office, after one million of you signed a petition calling for her freedom. Now, Manning is world-famous: a whistleblower, trans rights and human rights activist.
June – Stella Creasy 
The summer began with great news: Northern Irish women would be able to access NHS-funded abortions in Great Britain. No longer would women have to pay for treatment they might have struggled to afford if forced to travel to Britain – or worse, risk an unsafe, illegal termination back home. The change was proposed to Parliament in an amendment put forward by the Labour MP for Walthamstow Stella Creasy, with strong cross-party support for a move that will ensure the safety and rights of women across Northern Ireland.
Thank you to MPs on all sides who supported call for change to help northern Irish women have equal access to abortion #MyPledgeHerChoice

— stellacreasy (@stellacreasy) June 29, 2017
Although this is clearly a monumentally positive step forward, we're still fighting for Northern Ireland to reform its Victorian-era abortion laws – join us. 
July – Our brilliant community fundraisers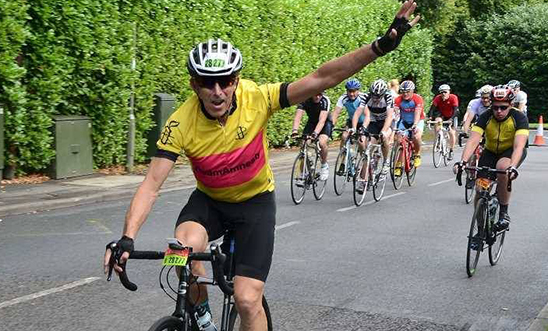 We had two fantastic riders, John (pictured above) and Katie, take part in the annual RideLondon-Surrey 100 event in July, raising over £2,500 between them. In fact, we had incredible riders, runners, trekkers, students, dancers, church groups, school groups, musicians, bucket-shakers and jam-makers taking part in fundraising events throughout the year to raise half a million pounds! If you want to join in next year, contact our Community Fundraising team now.    
August – Munroe Bergdorf
When cosmetic giants L'Oreal fired Munroe Bergdorf, they probably didn't know how major the fallout would be. Back in August, the model was a first for L'Oreal: a transgender woman. But when she spoke out on her Facebook page about systemic racism, they ended their partnership with Bergdorf saying her views were 'at odds' with theirs. The story gained worldwide attention and Bergdorf was catapulted into the spotlight.
Pick up a copy of today's London Evening Standard for new interview.

"You need to get angry sometimes. I am... https://t.co/jEMRSI1lqd

— Munroe Bergdorf (@MunroeBergdorf) September 29, 2017
While many were in strong support of her, she was also frequently targeted with abuse and threats, a scourge women of colour often face. She would not be silenced, and remains a proud activist. Upon earning a new modelling contract with a rival cosmetic brand, she said: 'Excited to announce that I'm one of the faces of the next Illamasqua campaign. If you don't stand for something, you'll fall for anything.'
September – Colin Kaepernick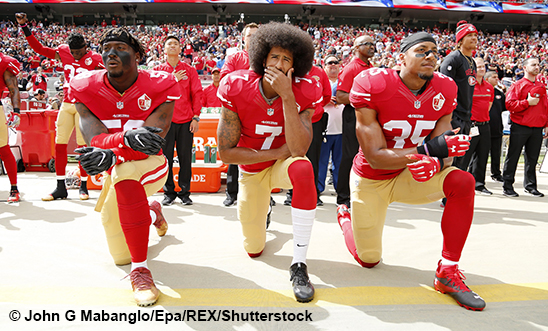 American football player Colin Kaepernick first came to prominence as an activist last year. He began opting of out the singing of the US national anthem at football games, instead choosing to kneel in protest against the oppression faced by African Americans. In an interview, he said: 'To me, this is bigger than football and it would be selfish on my part to look the other way. There are bodies in the street and people getting paid leave and getting away with murder.'
His protest angered many, including President Donald Trump, who tweeted in September that players should be either fired or suspended if they fail to stand for the national anthem. This led to millions of tweets in support for Kaepernick and others protesting the anthem, through the use of the #TakeTheKnee and #TakeAKnee hashtags. For his courageous efforts, Kaepernick was awarded the Muhammad Ali Legacy Award at this year's Sports Illustrated ceremony, and continues to fearlessly stand up for his beliefs.
October – Tarana Burke 
If you've not heard of Tarana Burke, then you should because she was responsible for possibly the biggest social media movement this year: #metoo. Social activist Burke came up with the phrase back in 2006 to highlight the abuse faced by women and girls. It was then more recently adopted in response to the Harvey Weinstein sexual misconduct allegations.
Our new website is: https://t.co/mdCBw924qC

— Tarana (@TaranaBurke) October 30, 2017
The hashtag quickly went viral in the autumn, shining a depressing light on the sheer number of people who have faced sexual assault or harassment in their lifetimes. From actors to athletes and politicians to the general public, #metoo is still being used the world over. Tarana was one of the inspirational 'Silence Breakers' to receive Time magazine's People of the Year honour.
November – Norwegian teen activists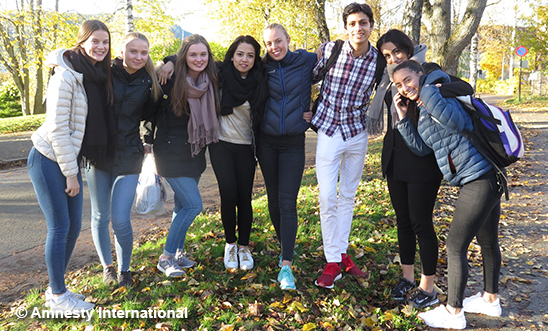 In November, thousands of teenagers joined a huge torch-lit demo to stand in solidarity with 18-year-old Taibeh Abbasi (pictured above, fourth from left), who is living in fear of being deported to a country she has never even visited: Afghanistan. Their message to the Norwegian government was clear: keep Afghan teens like Taibeh safe, and don't force them to leave once they turn 18. Over 100,000 people also signed a petition calling on Norway to stop returning people to Afghanistan until the country is stable enough to ensure their safety and dignity.
December – Issa and Farid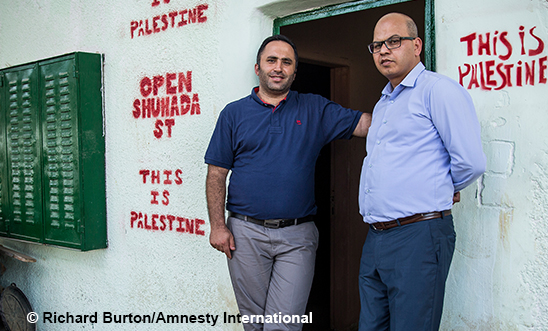 Issa Amro and Farid al-Atrash have dedicated their lives to campaigning against illegal Israeli settlements in Palestine. They are both firm believers in non-violent protest, and it was after one such peaceful demonstration in February 2016 in the city Hebron – during which the Israeli forces fired tear gas at protesters – that Issa and Farid were arrested. They are facing trial in an Israeli military court this month – let them know you're thinking of their struggle by sending them a message of support now. 
About Amnesty UK Blogs
Our blogs are written by Amnesty International staff, volunteers and other interested individuals, to encourage debate around human rights issues. They do not necessarily represent the views of Amnesty International.
View latest posts