What do you want to say to Theresa May?
Update: This action is now closed.
It's been a year since the shocking image of little Alan Kurdi washed up dead on a Turkish beach led to an outcry from the public and politicians against the UK's shameful response to the refugee crisis.
Anger spread like wildfire on social media and 100,000 people marched to Parliament to demand action from the Prime Minister. That week, the government announced that the UK would take 20,000 Syrian refugees over the next five years. But 12 months on, thousands of desperate people are still dying trying to reach safety and the crisis continues to worsen.
This year, we're marching again.
On Saturday 17 September, thousands will march their way through the streets of London to send the Prime Minister a clear message. We'd love for you to march with us but if you can't make it on the day, there's another way you can add your voice.
Tell us what you'd like to say in 30 characters or less: we'll put it on a placard and take it with us on the march. Just keep it clean and polite – you know what we're talking about...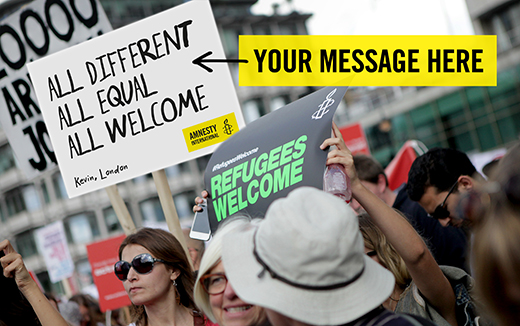 About Amnesty UK Blogs
Our blogs are written by Amnesty International staff, volunteers and other interested individuals, to encourage debate around human rights issues. They do not necessarily represent the views of Amnesty International.
View latest posts