Three ways you can stand against hate
In the last few days, reports of hate crimes in the UK have increased. We stand against hate no matter the source and no matter who is targeted.
We've launched a campaign to urge local leaders to condemn these actions immediately and do everything in their power to make people safe and welcome.
You can help spread the message and encourage others to stand against hate too.
3 ways you can spread the message to stand against hate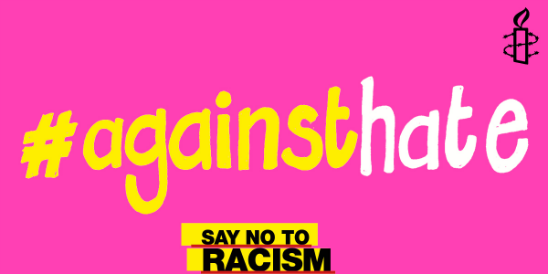 1. Post on social media – Facebook, Twitter, Instagram
2. Change your profile pic
3. Take a selfie
Download one of our posters
Take a selfie with the poster
Share it with the hashtag #againsthate so that we can show how many people stand together
If you haven't done so already, join 11, 382 others and take action by telling your council to speak out against racism, xenophobia and hate crimes now.
About Amnesty UK Blogs
Our blogs are written by Amnesty International staff, volunteers and other interested individuals, to encourage debate around human rights issues. They do not necessarily represent the views of Amnesty International.
View latest posts