This is my protest t-shirt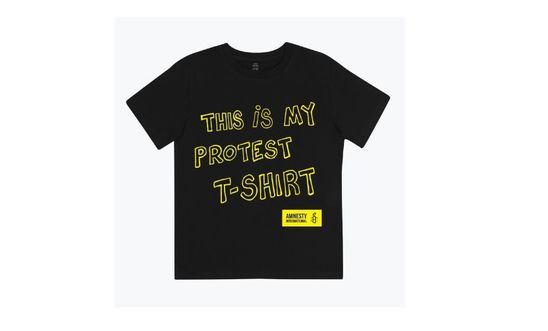 Slogan by competition winners Lois and Ailis
This year we have seen a wave of activism from children and young people across the world. From the school strikes for climate to the student protests to end gun violence, they are fighting for their rights – and it's time for the world to listen and act. Greta Thunberg was recently awarded our Ambassador of Conscious award, for her efforts to raise awareness of the climate crisis. Her decision to miss school every Friday starting in August 2018 and instead protest outside the Swedish parliament until it took more serious action to tackle the climate emergency kicked off the Fridays for Future movement. It has since mobilized more than one million young people from all over the world. "Activism works. So, what I'm telling you to do now, is to act. Because no one is too small to make a difference."
We wanted to hear from children in the UK about what is important to them, and lift up their voices. Placards, homemade banners and t-shirts become iconic images – just look at social media posts from the Climate Strikes and Women's March. We ran a competition and asked young people to send in their best t-shirt slogans. Entries varied but touched on issues of climate change, capitalism and equality. The winning entry we felt summed up this wave of activism. Lois and Ailis were joint winners with "This is my protest t-shirt", we asked them about what inspired them:
How did you come up with your slogan? What inspired you?
Ailis: I wanted a slogan that was simple. I wanted a slogan that would invite people to ask me why I was wearing it. The words on the shirt can be used to spark many conversations and to invite discussion about topics that are important to the wearer.
Lois: We were trying to get inspiration by looking at some popular protest signs from the recent climate change protests. .. people's right to peaceful protest is being infringed upon across the globe, and our slogan aims to combat that by reminding others of our right to assembly and protest.
What issues are important to you?
Ailis: I am saddened by the global lack of free healthcare, and believe that the NHS is one of the greatest achievements of the 20th century…. Like many others of my generation, I am concerned about the global effects of climate change and as part of my Duke of Edinburgh Award, I successfully campaigned to ban the sale of plastic-bottled drinks in my school.
Lois: We are also both very vocal about LGBT+ rights and equality in general, and we are appalled that so many countries are still so opposed to positive changes. There are so many issues we could talk about!
Have you been involved in any protests?
Ailis: One of my earliest memories was protesting against cutbacks at my local NHS hospital (The Whittington Hospital in London).
I have protested against Brexit, believing as I do that it is important that the UK remains a part of a community committed to peace and prosperity throughout the Union.
Lois: We did presentations within school promoting LGBT+ rights and a fundraiser to help campaign to free Nazanin Zaghari-Ratcliffe.
On protest fashion
Ailis: Anything that carries your message is important. If you can't hold a sign, you can wear a t-shirt
Lois: T-shirts are important for protests as they can show a sort of solidarity and group effort. Matching clothes have long been a symbol of collective passion. T-shirts can also influence people outside of protests. Wearing shirts with a statement during your day to day life can provide people with inspiration to look into a cause.
Ailis and Lois's t-shirt is available for a limited time only, until the 29th November as part of our Leaders of Today range. Get in quick, once they're gone, they're gone!
About Amnesty UK Blogs
Our blogs are written by Amnesty International staff, volunteers and other interested individuals, to encourage debate around human rights issues. They do not necessarily represent the views of Amnesty International.
View latest posts