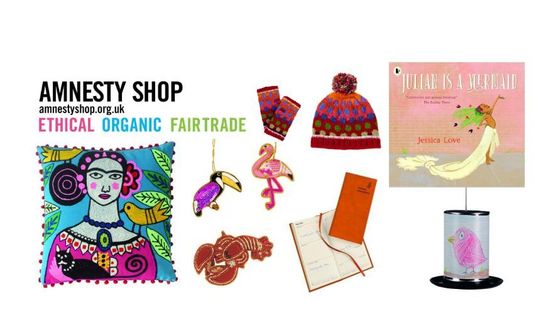 This Christmas we've asked Amnesty staff and volunteers for their best gift idea's from the Amnesty Shop.
Every diary, sequin and t-shirt is ethically sourced, and supports our fight for justice and equality.
Get in quick, before they all sell out!
Amnesty Pocket Diary - £5.95
"I've been buying the Amnesty diary every single year, for over 10 years.
My Dad, who is over 90, refuses to use any other diary!
He has always loved the Amnesty diary and wants TWO every year – one for himself and one for a friend. It has everything he needs and also lots of great stuff he doesn't need."
A member of our data and finance team, who wishes to remain anonymous
Julian is a Mermaid – £6.99
"This book is a favourite of mine and my nephew and when we read it together it always makes me feel pretty emotional. It's a story full of joy and love and with a simple message: that to be yourself, in whatever way that feels in your heart and your mind and to be able to express that in the world without fear, is beautiful."
Lydia, Campaigner, Human Rights in the UK
Frida Kahlo cushion  - £36.50
"I have bought this for so many friends in the hope someone will buy one for me. Hopefully this will be the year!"
Rene, Artist and Event team
Swedish Fire Log - £8.50
"This was my bargain buy of the year, I took it down to Dorset and burned it on the beach one evening, very nice and it seemed to last all evening. It is quite heavy but has a useful rope handle that makes it easier to carry.
You can also wack a frying pan on the top and cook sausages, vegan or otherwise."
Rich, Senior Graphic Designer
Football Welcomes Refugees t-shirt - £16.50
"One of Amnesty's best designed t-shirts by a mile, a must have for all occasions, I wear mine when I go and watch Bath City play but I'd also happily wear it to a wedding, job interview or any formal or non-formal event.
I did actually design this shirt (that of course has no bearing on this review) but I had to buy it as Georgie wouldn't give me one for free!"
Rich, Senior Graphic Designer
Embroidered Decorations - £8.95
"I'd recommend grabbing these to add some extra sparkle to your tree this Christmas- Last year I had so many compliments!"
Polly, Events team
Make your own bird feeder – £7.50
"Fantastic activity that we enjoyed doing together as a family. Important as it encourages recycling and the joy keeps on giving as watch the birds come and feed out the window."
David, Community Fundraising team
"Bright and beautiful design! Brilliant gift for my flamboyant cousin, helps keep her warm and easily spotted when out and about town!"
David, Community Fundraising team
Women of the World Calendar – £9.95
"The illustrations in this calendar are beautiful – artwork is by Nadia Akingbule, an illustrator and painter from London. I knew Nadia through her work at gal-dem. Her style is joyful, and captures the essence of each woman of colour featured in the calendar. A beautiful object to have in your home."
Georgie, Online shop manager
About Amnesty UK Blogs
Our blogs are written by Amnesty International staff, volunteers and other interested individuals, to encourage debate around human rights issues. They do not necessarily represent the views of Amnesty International.
View latest posts