Our ethical Christmas gift ideas 2017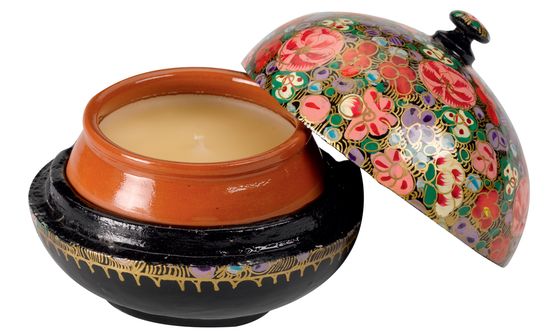 Prashanda lavender and vanilla-scented beeswax candle © Amnesty International
Written by Georgie White, Amnesty's online retail manager.
'Ethical shopping' has come a long way in the last few years. No longer purely the realm of the most conscientious consumers or hardcore hippies, Fairtrade can be affordable, fashionable, and good for the soul.
The Amnesty Shop sells a wide variety of ethical gifts, all with an ethical objective. Many come from small suppliers around the globe, that support local communities by providing people with marketable skills and a fair wage. We also have a huge range organic and eco-friendly gifts for the home, made right here in the UK. You can be confident that your money goes to worthy causes - and, of course, it also supports our work to defend human rights around the world.
We have a unique range and something for everyone – here are my top 10 ethical Christmas gifts for 2017.
1. Animal figurines made from recycled flip flops 
Colourful and attractive safari animal figures handcrafted in Nairobi from flipflops found littered on beaches in Kenya. The company was founded by Julie Church a former marine scientist, £10.95.
2. Recycled water sachet bag
Made in Ghana from recycled drinking water sachets, strong and durable, this ethical bag is ideal for your weekly shop, £10.00.
3. Bird paper bunting
Elegant white peace dove bunting, handmade in India, £6.95.
4. Palestinian West Bank olive soaps
Prepared in the traditional way using virgin olive oil. Set of four soaps gift set scented with honey, lemon and milk, £13.95.
5. Prashana pot candle
Beautifully presented, lavender and vanilla-scented beeswax candle, nestled in a hand painted paper mâché pot. Made by Dalit people from India, who often face widespread discrimination due to being at the bottom of the Hindu caste system, £24.50.
6. Amnesty candle boxer shorts
Wear your heart on your waistline with these boxers in organic cotton with candles all around the waistband in black and white, £19.50 for a set of three.
7. DIY Suffragette Decorations
Add a revolutionary twist to your Christmas tree with this set of DIY Suffragette Decorations. Make your own activist angel, slogan paperchains (Liberty, Equality, Sorority!) and no-nonsense baubles, £4.99.
8. Imagine
Words by John Lennon, illustrated by award-winning artist Jean Jullien. This picture book was made for Amnesty International, would be treasured by children and adults alike. Take the journey with one little pigeon on a mission to spread peace around the world. Special price: £9.99
9. Recycled glass carafe and tumbler set
Perfect for the desk, by the bed, or my personal preference, a wine glass for one! Made by a family-owned business in Bolivia, started by two brothers, Carlos and Walter, £14.50
10. Kilim shoulder bag
Fashionable and practical, a good size for an everyday bag. Fairtrade and made in India, £30
Visit the Amnesty Online Shop for lots more unique, ethical gift ideas.
About Amnesty UK Blogs
Our blogs are written by Amnesty International staff, volunteers and other interested individuals, to encourage debate around human rights issues. They do not necessarily represent the views of Amnesty International.
View latest posts