Amnesty's Ethical Gift Guide for 2021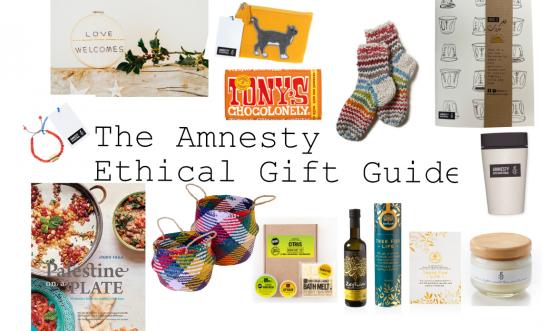 Gifts that tell a story. Gifts that do good.
This year, we have our biggest collection ever, of ethical gifts and everyday items at the Amnesty Shop. Vegan? We've got you covered. Worried about the environment? check our huge range of plastic free gifts, that don't compromise on style. We don't do fast fashion, just quality, ethical and useful.
Here are some of our favourites:
Embroidered by an incredible woman artisan living in a refugee camp in Greece this 'Love Welcomes' embroidery hoop is much more than just a beautiful addition to your home or a gift for a loved one. With the hand-stitched message and its translation into Morse code this hoop helps to support these women providing them with a living wage and help to build them a better future. £15
Or pick up a beautiful notebook, handmade by Syrian refugee women in Beirut, Lebanon. Made from recycled paper, they are hand cut and stitched with colourful thread. Designs reflect the sights, sounds and smells of downtown Beirut in the summer. £11
You can also support Palestinian farmers, with this very special olive oil set. This unique gift idea is not only a simple bottle of organic, Fairtrade extra virgin olive oil, it also pays for an olive tree to be planted in Palestine and comes with a certificate of thanks. Feel good knowing that your gift will delight the receiver and benefit farming communities in Palestine too. Zaytouns best selling olive oil is made with hand-picked, rain-fed olives that are pressed on the day of picking. The olives are organically grown and ethically sourced from small-scale farms in the West Bank. £25
How about his gorgeous adjustable bracelet with fire coloured recycled glass beads? It's also handmade by fair trade artisans? £16
Looking for a practical stocking filler? This Amnesty branded coffee cup is made from recycled, single use paper cups. Its also leak proof! £13.95
Still not sure? Why not give the gift of choice - with an Amnesty voucher of either £10, £20, or £50. 
Everything you buy from the Amnesty Shop supports our life saving human rights work. Thank you so much for your ongoing support, from everyone at the Amnesty Shop team.
About Amnesty UK Blogs
Our blogs are written by Amnesty International staff, volunteers and other interested individuals, to encourage debate around human rights issues. They do not necessarily represent the views of Amnesty International.
View latest posts