Never Forget Never Give Up– 29th Anniversary of Tiananmen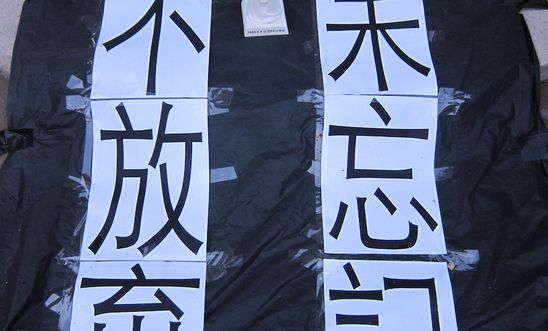 On Sunday the 3rd of June, 7pm-9pm, over 40 people gathered in front of the Chinese Embassy in London to commemorate the Prodemocracy Movement in1989. Participators highlighted the citizens who were killed at Muxidi in the Massacre by the army of the Chinese Communist Party.
The 1989 democracy movement ended with a bloody massacre, but our struggle has continued. The courage of the tank man has never died. It has manifested itself in the rights defending movements across China, in the struggle for freedom of the Tibetan and Uyghur peoples, in the Umbrella Movement in Hong Kong.
The sad reality is that democracy is further away from China. In February, Chinese Communist Party top leader Xi Jinping set to rule China for life, making China much more deeply fall into autocracy. Last year, Yang Tongyan (aka Yang Tianshui), a democracy fighter in 1989 and a freelance writer, died only a month before the end of his sentence. Liu Xiaobo, the Nobel Peace Prize winner, also died in custody last July. His wife, the poet Liu Xia, is still under house arrest.
Participants read out the names of the victims at Muxidi, one of the major killing grounds, when the PLA martial law troops forced their way to Tiananmen Square.
Choi SF (Cai Shufang), a Hong Kong journalist present at Tiananmen Square in 1989, talks about her coverage of the movement and documentation of the massacre.
A participant read out Liu Xiaobo's poem: For Seventeen
Chinese students tell audience that it is more difficult for young people to know the June Fourth after VPN crackdown and surveillance upgrading. However, the commemoration of this Tiananmen anniversary vigil would help further disseminate.
In China, people are still forbidden to commemorate Tiananmen Massacre in public. To remember and commemorate the movement and massacre in public is to struggle for human rights and democracy. Participants chant together: truth for June Fourth; massacre on trial; end autocracy democracy now (调查六四真相、追究屠杀责任,结束专制、建设民主 ) in English and Chine se!
Commemorating those who died in the 1989 massacre and also expressing our solidarity with people inside China who are still fighting for democracy and human rights. One day, our small actions will bring a big change. Human dignity will prevail in every corner in China.
More:
https://www.facebook.com/photo.php?fbid=10214228089789020&set=pcb.10214…
https://twitter.com/caichu88/status/1003823211719602177
六四29 周年紀念,倫敦中國大使館門外舉行悼念晚會
https://thestandnews.com/politics/%E5%80%AB%E6%95%A6%E7%9B%B4%E6%93%8A-…
El silencio de China en el aniversario de Tiananmen
https://www.es.amnesty.org/en-que-estamos/blog/historia/articulo/el-sil…
About Amnesty UK Blogs
Our blogs are written by Amnesty International staff, volunteers and other interested individuals, to encourage debate around human rights issues. They do not necessarily represent the views of Amnesty International.
View latest posts