London Remembers June 4th Candlelit Vigil:Tiananmen Massacre 33 Years on 倫敦毋忘六四燭光集會: 天安門大屠殺 33 週年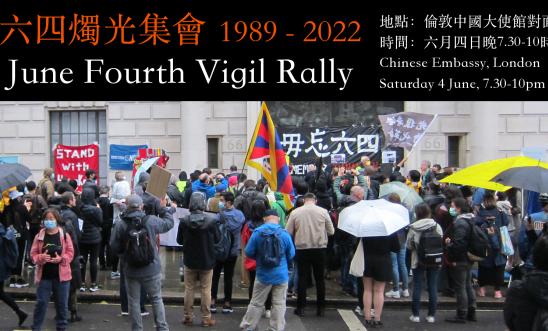 This year marks the 33rd anniversary of the 1989 pro-democracy movement and the Tiananmen massacre. As always, we stand firmly with Tiananmen mothers, supporting their demands for truth, accountability, and justice for victims. We will be holding a candlelit vigil in front of the Chinese Embassy in London on 4 June 2022, 7:30–10 pm.
今年是1989年民主運動和六四屠殺33週年。我們一如既往地聲援天安門母親,堅定不移地支持她們對調查真相、追究責任、還受難者以正義的訴求。我們將於 2022 年 6 月 4 日晚上 7:30-10 點在倫敦中國大使館前舉行燭光集會。
Location: In front of the Chinese Embassy in London 49-51 Portland Place London W1B 1JL
Organisers:
London Remembers June 4th
Friends of Tiananmen Mothers
Amnesty International (UK)
Chinese Solidarity Campaign
Democracy for Hong Kong (D4HK)
Liberty for Hong Kong
Hongkongers in Britain
Hashtags: 
#64truth #TiananmenMothers #TAM33  #TiananmenMassacre #HK #八九六四 #北京大屠杀 #天安門大屠殺 #天安门母亲 #六四33 #香港 Solidarity with #HongKong #Tibet #Uyghurs
About Amnesty UK Blogs
Our blogs are written by Amnesty International staff, volunteers and other interested individuals, to encourage debate around human rights issues. They do not necessarily represent the views of Amnesty International.
View latest posts