He's cancered/murdered, she's been disappeared, London will not keep silent.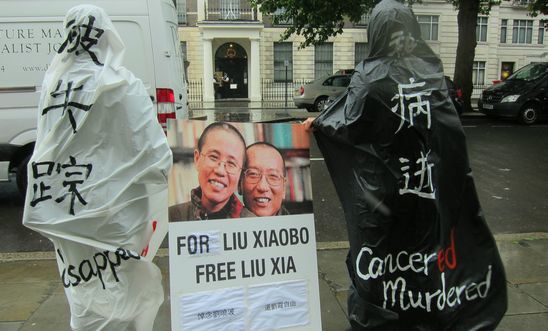 August 2 is the 21st day since the passing of Liu Xiaobo, the first Nobel Peace Prize winner to die in state custody since Nazi Germany.
Liu Xiaobo was imprisoned purely for speech. He was sentenced to 11 years in prison for drafting and promoting Charter 08, a manifesto calling for political transformation in China.
Liu Xiaobo's wife, the poet Liu Xia, has been 'disappeared' since Liu Xiaobo's funeral. Tens of people have been detained for mourning Liu Xiaobo. What will be the fate of thousands of prisoners of conscience and their family members in China?
Downloads
About Amnesty UK Blogs
Our blogs are written by Amnesty International staff, volunteers and other interested individuals, to encourage debate around human rights issues. They do not necessarily represent the views of Amnesty International.
View latest posts