Call on China to release Liu Xiaobo for cancer treatment abroad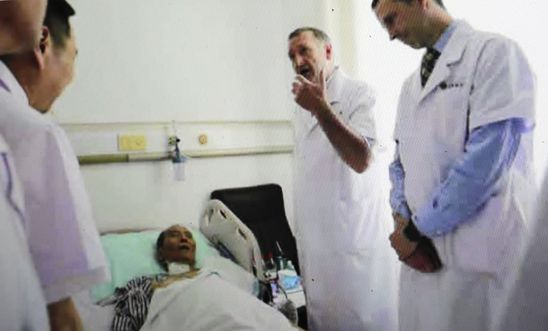 Please write to your MP and Prime Minister Theresa May, demanding that the Prime Minister and the Parliament of the UK urge China to release immediately and unconditionally the Chinese Nobel Peace Prize laureate Liu Xiaobo, and allow Liu Xiaobo and his wife Liu Xia to travel abroud for medical treatment. Below is an example.
Dear MP
I am writing to you, in regard to the deteriorated health of Chinese Nobel Peace Prize laureate Liu Xiaobo. In 2008, Mr Liu co-drafted Charter 08, a manifesto calling for political democratic transformation in China, including an independent legal system, freedom of association and the elimination of one-party rule. For this, Mr Liu was sentenced to eleven years in prison in 2009; his wife, the poet Liu Xia, has been subjected to house arrest since then.
In June 2017, the Chinese government suddenly announced that Mr Liu had been diagnosed with terminal liver cancer and transferred to a hospital in Shenyang. Friends and journalists tried to visit Mr Liu and his wife in the hospital but were beaten by the police outside the ward. It is reported that in April Mr Liu and his wife had expressed their wish to go abroad for medical treatment. On 8 July Mr Liu reiterated his wish to receive treatment abroad when two doctors from the United States and Germany visited him to assess his condition. The doctors have confirmed that Liu Xiaobo can be moved safely to travel abroad for treatment, but it needs to happen quickly. I sincerely hope that the UK government will make a formal statement to urge the Chinese government to:
release Liu Xiaobo immediately and unconditionally;
guarantee Liu Xiaobo and his wife Liu Xia freedom to travel abroad to seek medical treatment;
guarantee Liu Xiaobo and Liu Xia enjoy their rights to be visited by and to communicate with the outside world, and to receive humanitarian assistance from the outside world;
disclose in full Mr Liu's medical record during imprisonment and allow independent international experts to investigate thoroughly the cause of deterioration of his health in jail.
I urge the UK ambassador in China to make consistent attempts to visit Liu Xiaobo and Liu Xia in hospital in Shenyang, and provide urgent humanitarian assistance. The UK government must welcome Mr Liu and his wife to seek medical treatment in the UK.
Please find below selected reports for more details. Please do not hesitate to contact me if there is anything I can do to help provide more information.
Yours sincerely,
Does your MP represent you? https://www.theyworkforyou.com/
Contact the Prime Minister: https://email.number10.gov.uk/
References:
http://in.reuters.com/article/china-rights-liu-idINKBN19U06F?il=0
https://www.theguardian.com/world/2017/jun/26/outpouring-of-anger-as-chinese-nobel-laureate-released-from-prison
https://www.hongkongfp.com/2017/07/08/9-responses-intl-community-chinas-treatment-nobel-winning-dissident-liu-xiaobo/
http://www.freedom-now.org/news/154-nobel-laureates-urge-chinese-president-xi-jinping-to-allow-liu-xiaobo-and-liu-xia-to-travel-to-the-us-for-medical-treatment/
About Amnesty UK Blogs
Our blogs are written by Amnesty International staff, volunteers and other interested individuals, to encourage debate around human rights issues. They do not necessarily represent the views of Amnesty International.
View latest posts