Feelings Bean Bag - Bite Size Activity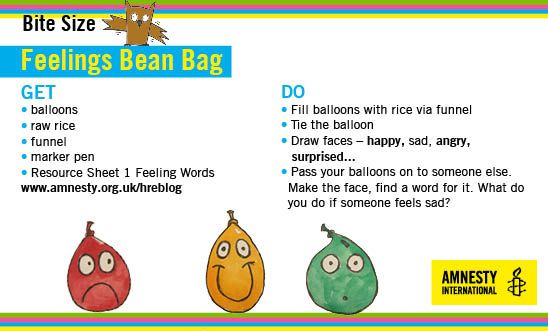 Make bean bags to show different feelings
​We all have the right to have our own thoughts and ideas and to share them​
Make bean bags to show different feelings.
Each week we will share more bite size ideas for fun and creative ways to learn about human rights.
You'll need​
Balloons, uncooked rice, funnel, feelings resource sheet​
​What to do​
Insert funnel into the top of the balloon, pour in rice. When the balloons are full, draw faces on them using a permanent marker pen to represent the emotions of happy, sad, angry, surprised.​
Sitting or standing, pass or roll the balloons to each other. When you receive it, you should name the feeling on the balloon and make the face. ​
What's another word to express that feeling? How do you feel when you see someone making a feeling face? What​ would you do if someone is feeling sad? ​
​Share your bean bags with us by emailing a picture to hre@amnesty.org.uk or using the hashtag #bitesizeHRE.
Amnesty's education work is supported by players of People's Postcode Lottery.
Downloads
About Amnesty UK Blogs
Our blogs are written by Amnesty International staff, volunteers and other interested individuals, to encourage debate around human rights issues. They do not necessarily represent the views of Amnesty International.
View latest posts