It's not every day you get to enjoy homecooked food from all over the world while watching a blockbuster – and hear from a Hollywood A-lister afterwards. But you might be able to once a month, thanks to The Welcome Kitchen + Cinema. Every four weeks, the group brings together people from all walks of life – refugees, asylum seekers and the general public –  to share food, culture and stories.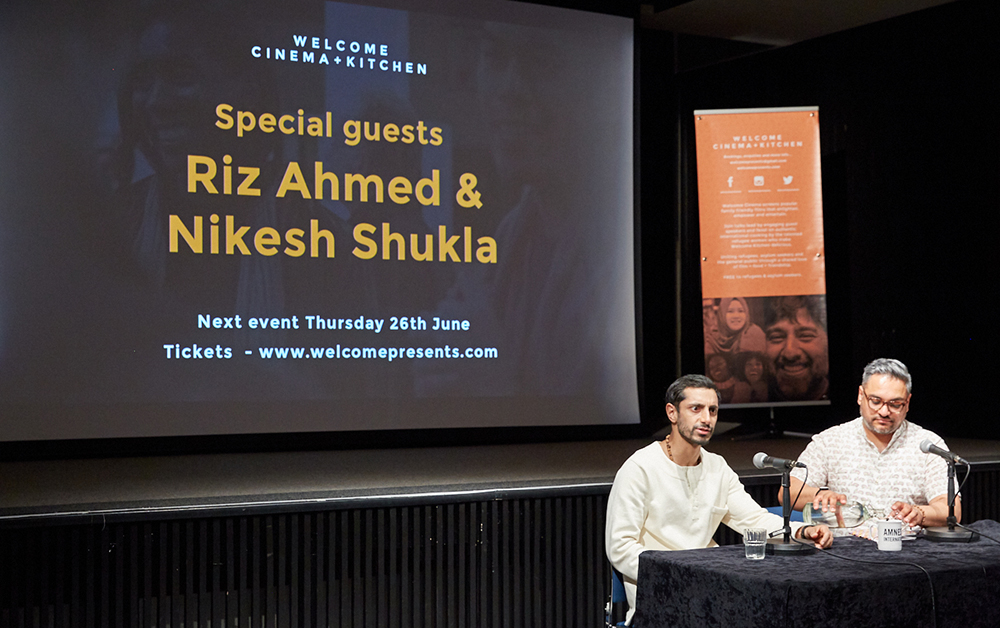 Riz Ahmed and Nikesh Shukla at The Welcome Cinema + Kitchen Ⓒ TimeOut Magazine
Last Thursday, our auditorium was packed – bristling with excitement for a story so epic that it's impossible to think about without the theme music playing in your head.
 
Star Wars: Rogue One. 
 
And with Hollywood star Riz Ahmed and author Nikesh Shukla on the panel afterwards, it was clear: this month's Welcome Cinema was going to be a blockbuster.
Trekkie by nature
Before the lights dimmed, I grabbed some popcorn and grabbed a seat at a table brimming with excited conversation. The group were sharing stories about favourite dishes from their homes – from the Ivory Coast, to Syria, to North London. It was clear from the rapidly depleting popcorn that our table shared a love of food, but there was something else we all had in common: none of us had seen Star Wars. Before I knew it, I was admitting to my new friends that I was actually a self-confessed Trekkie and that I was counting down the two hours to see Riz Ahmed.
 
Then, John Williams' theme started, and the lights went down.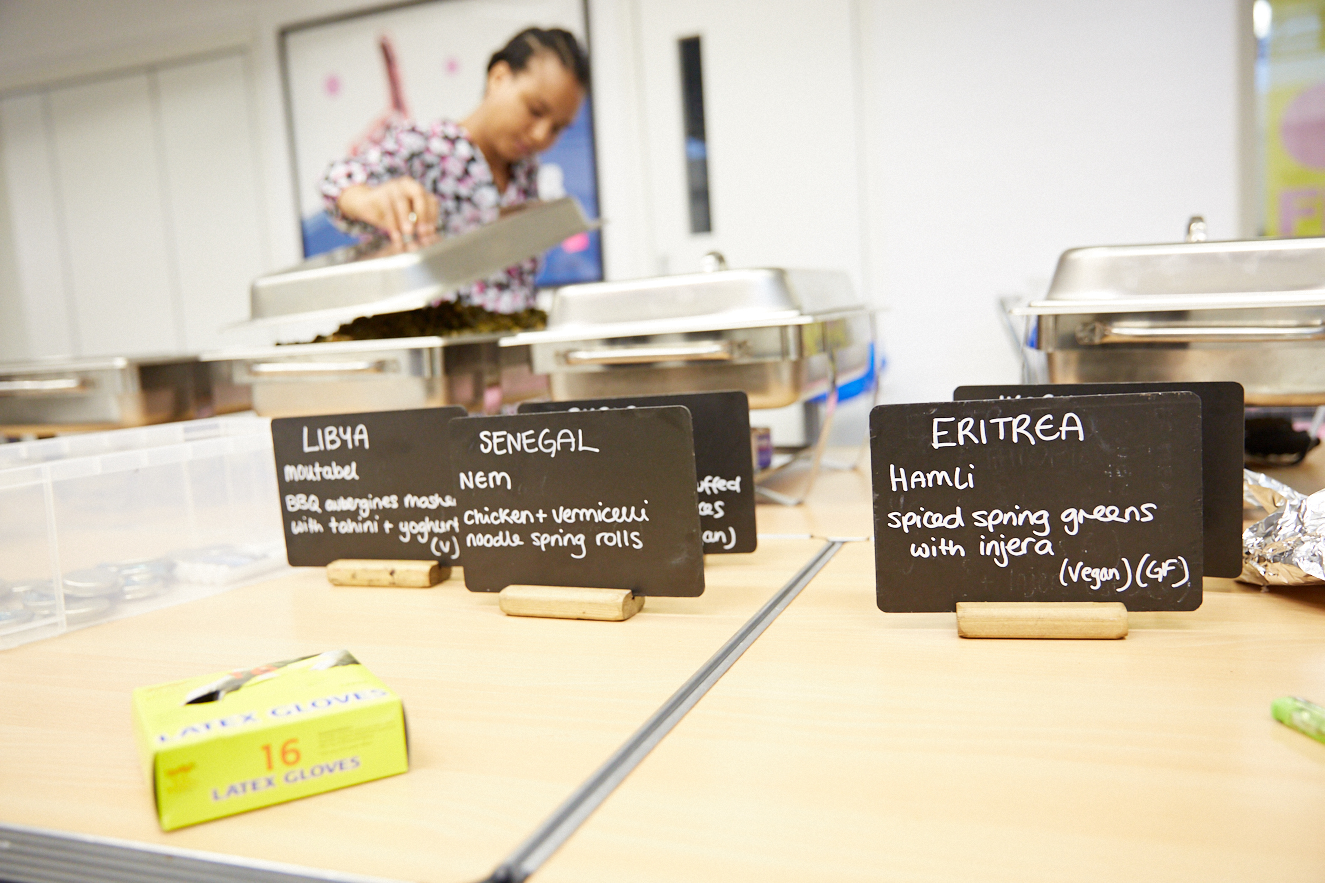 The Welcome Cinema + Kitchen Ⓒ TimeOut Magazine
Making sense of the world through stories
You're not reading this for the Star Wars review – so I'll save my thoughts on world-building and fantasies set in space (live long and prosper > may the force be with you). But it was completely refreshing to see a diverse cast – including Riz Ahmed, Jiang Wen, and Forest Whitaker – in lead roles. People who looked like me in stories set on the big screen.
 
We make sense of the world through stories, and we make up the world because of them.
 
Nikesh Shukla, author of The Good Immigrant, collects and shares stories. Stories that aren't often seen in mainstream blockbusters but make up what our society is today. In his book, fifteen writers explore what it means to be Black, Asian or a minority in Britain.
 
After Rogue One's final credits had rolled, Nikesh stepped forward to interview Riz Ahmed – one of the book's contributors.
Winning awards is like eating sugar

 Riz Ahmed and Nikesh Shukla at The Welcome Cinema + Kitchen Ⓒ TimeOut Magazine
Riz shares a story with us. He tells us about a time when there weren't a lot of brown faces on TV when he was growing up. It was so rare that his mum would shout up the stairs 'Asian!' every time there was an Asian person on TV. Seeing someone – anyone – who resembles your experience in the world carries so much weight. Riz recalls when he saw Indiana Jones and the Temple of Doom – the one where the brown people are the baddies and are so 'wild' they eat monkey brains. It stays with you.
 
The best thing about his job, Riz tells us, is meeting people and hearing real life stories through events like the Welcome Cinema. Memories of glitzy award ceremonies fade – it's like eating sugar. Meeting people from different cultures and backgrounds are what stays with you more – like the satisfaction of homecooked food, long after you've eaten it.
 
Riz looks around at the audience from all walks of life. "For a lot of people in this room – you've faced immense challenges. Your stories matter. Your experiences matter. Your new experiences and your new stories are what's keeping this country's lifeblood going. Don't let anyone tell you that your story doesn't matter".
The most epic of all tales
The Welcome Cinema + Kitchen Ⓒ TimeOut Magazine
The history of humanity is the most epic of all tales – a story of movement and migration over millennia. We are the sequel to an ancestral saga and the authors of our own plotlines. Stories are in our DNA.
 
Stories are also universal – they're what connects us. And in these divided times, spaces like The Welcome Cinema + Kitchen are more important than ever. It brings refugees and asylum seekers, trekkies and Star Wars fans – together. People from all walks of life, to meet others, to feast on traditional homecooked food and to share experiences. Because what else are we but a collection of stories?
 
---
Next month's Welcome Cinema on Thursdasy 20 June is during Refugee Week. We'll be showing the movie Soufra – the unlikely and wildly inspirational story of an intrepid social entrepreneur, Mariam Shaar – a generational refugee who has spent her entire life in a Lebanese refugee camp.
We'll also be joined by Asma Khan (Darjeeling Express), Joudie Kalla (Palestine On A Plate) and Rose Dakuo (Welcome Kitchen) for a panel discussion, chaired by food journalist Victoria Stewart.  Book your tickets here.
About Amnesty UK Blogs
Our blogs are written by Amnesty International staff, volunteers and other interested individuals, to encourage debate around human rights issues. They do not necessarily represent the views of Amnesty International.
View latest posts