Right to be free from rape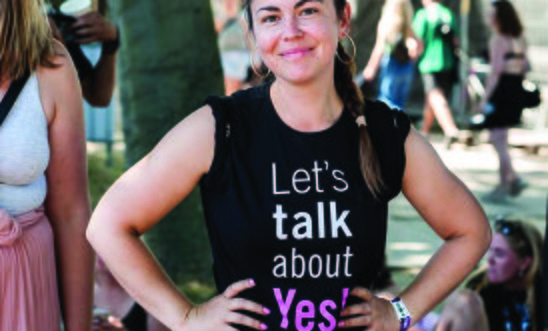 Yes! Campaign Amnesty © John Nielsen
Last week many were horrified to see an Irish MP brandishing a thong in Parliament. She was protesting against a defence lawyer presenting the victim's choice of underwear to the jury in a rape trial, plainly insinuating to the jury that she was 'asking for it'. This episode sparked outrage, with women taking to the streets in Cork (where the trial took place) and #ThisIsNotConsent spreading on Twitter.
That defence lawyer knew well that the myths and perceptions she was hoping to exploit in her client's defence are widespread: the latest survey found that more than one in four people in Europe believe that sexual intercourse without consent may be justified in certain circumstances, for example if the person is drunk or under the influence of drugs, is voluntarily going home with someone, wearing revealing clothes, not saying 'no' clearly or not fighting back.
The stats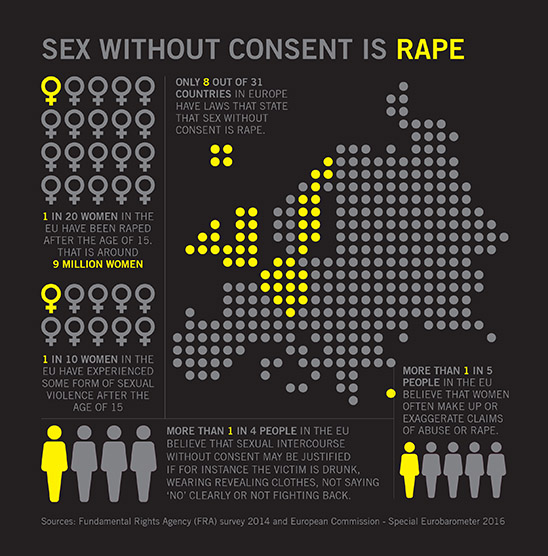 Over 1 in 10 people in the UK think being drunk or on drugs may be an excuse.  Stereotypes based on race, sexual orientation and gender identity, class and other characteristics also play a strong role in shaping rape myths. For example, the myth that sex workers cannot be raped.
Rape continues to affect the lives of women and girls in Europe – and the UK is not an exception. So do myths about rape, which stem from harmful gender stereotypes; perpetuating them, causing injustice and shaming victims. According to data from the EU Agency for Fundamental Rights 14% of women in the UK have experienced some form of sexual violence from the age of 15, either by an intimate partner or by another person. This is above the EU average of 11%, putting the UK in the joint top five countries for prevalence of rape.
Our research
We carried out a review of rape legislation in Europe to see whether it's fit for purpose and compliant with human rights standards.
Rape is not about sex, it's about power. In law rape should be defined as sexual conduct without the consent of the victims, regardless of whether physical force was used. Coercion can be violent or non-violent, applied through force or threat of using force, psychological oppression or abuse of power.
Even if none of these circumstances are present, if consent is not given, it's rape.
There should be no assumption in law or in practice that a victim gives her consent because she has not physically resisted the unwanted sexual conduct, regardless of whether or not the perpetrator threatened to use or used physical violence.
Issues with the law
Inadequate and ineffective legislation on rape remains a problem in many European states. Out of the 31 European states we covered in our research only eight define rape based on absence of consent in their legislation: Ireland, United Kingdom, Belgium, Cyprus, Germany, Iceland, Luxembourg and Sweden.
However, as every feminist can testify, getting the law right is just the first step, and is no guarantee of justice or wider transformation of society towards gender equality.
Human rights standards-compliant legislation itself is not the solution to addressing and preventing the ever-present prevalence of rape, rather a starting point. It needs to be accompanied by robust policies and practices to ensure full implementation. Widespread prejudice, victim blaming, stereotypes and myths around rape, often amongst those tasked with preventing it and enabling victims' access to justice, must also be adequately addressed.
The situation in the UK
We are deeply concerned about the failure of the Crown Prosecution Service to prosecute rape cases despite a record number of reports and despite legislation that is in line with international standards.
The CPS annual report released in September reveals a 23% drop in the number of rape cases charged last year. An investigation by the Guardian recently revealed that senior prosecutors have been advised to ditch 'weak cases' in an effort to improve annual conviction figures. 2,822 men were charged with rape in 2017/18, compared with 3,671 in 2016/17 – a drop of 23%. 'Weak' cases might include those where the victim is not 'perfect' – maybe she has a mental health issue or an addiction issue. The most vulnerable victims are being failed by this unwillingness to prosecute cases based on past experience.
This is unacceptable.
We stand alongside the End Violence Against Women's Coalition to call on the government to commission an independent review of the impact of changes in CPS practice, as well as a full review of how the whole justice system deals with rape.
Although the definitions of rape in the UK being compliant with international human rights standards, the government has a duty to ensure access to justice for rape survivors in practice. 
We need to talk more and better about consent. Read more here.
About Amnesty UK Blogs
Our blogs are written by Amnesty International staff, volunteers and other interested individuals, to encourage debate around human rights issues. They do not necessarily represent the views of Amnesty International.
View latest posts