On human rights day, send a message of hope
Written by Bonface Ophiyah Massah, National Coordinator of APAM, the Association of Persons with Albinism in Malawi
My name is Bonface Massah. I live in Malawi, and I have albinism. That is a dangerous combination.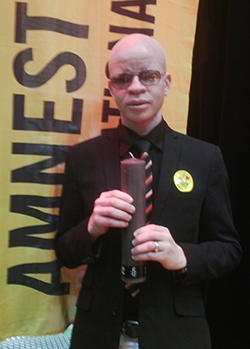 In Malawi, people with albinism are hunted and brutally killed in the name of witchcraft, because of our genetic condition. Some people believe that our body parts will bring them luck.
In the past couple of years, attacks have dramatically risen.
In the last two years, at least 18 people have been killed and more are missing, although these numbers are conservative estimates – attacks are not always reported.
We know of 45 attempted or actual murders that happened last year, but these are only the reported incidents. We have also seen a huge rise in grave robbing of people with albinism, although this is reported even less.
I lead the Association of People with Albinism in Malawi (APAM), an organisation that fights for the rights of these people. I am doing all I can do educate others about my condition, but ignorant beliefs coupled with a lack of action from the police and government means that at the moment the 7,000 - 10,000 of us with albinism in Malawi live in fear of our lives.
Today is human rights day. If you do one thing today, I'd like to ask you to take a minute to write a message that will bring hope to some of the people with albinism that I work with.
Send a message of hope to people with albinism in Malawi
One of those people is a little girl called Annie Alfred. Annie is eleven. She wants to be a nurse when she grows up, although right now she just loves playing with her friends. Little Annie should be able to play carefree, but unfortunately this isn't the case.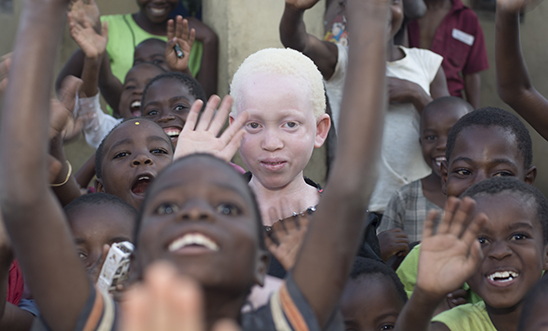 Image: Annie Alfred at school in Malawi. Amnesty International/Lawilink 
Many of the victims of assault have been young children, and we have seen a real impact on education as families are scared to continue sending their children to school, for fear of attacks.
At APAM are doing all we can to make sure these attacks are punished – and ultimately stopped. We have a struggle ahead. We run educational and awareness-raising programmes. And we're also campaigning for change. Along with Amnesty, we are lobbying Malawi's government and police, trying to make sure that attacks on people with albinism are reported, that the police treat them seriously, and that the national government does all it can to resource police to punish attackers and hold them to account.
If you write a message today, Amnesty will share it with me, and I will pass it on to Annie and the communities we work with.
We live with the threat of being abducted and brutally assaulted every single day. It does help to know that others have heard of our situation and stand with us in our struggle.
About Amnesty UK Blogs
Our blogs are written by Amnesty International staff, volunteers and other interested individuals, to encourage debate around human rights issues. They do not necessarily represent the views of Amnesty International.
View latest posts