Empowering women to end FGM and child marriage
Working with local communities has taught women's rights activist, Noelie Kouraogo, that a softly-softly approach is essential. If you do it right, the benefits will be far reaching for individuals, families and communities. But the biggest driver for change is the young women themselves. We caught up with Noelie when she was in London.
You can't just turn up in a village. First contact the village head, often through an intermediary, and make sure of your welcome.
'I often feel a village leader agrees to host us more out of courtesy than conviction. In Burkina Faso if someone comes to talk to you, the least you can do is listen – then make up your own mind.' So even if villagers and their leaders are opposed to change, they will give the Amnesty teams a hearing – and that is a start.
'It's a long process that can take several years. But we've never been turned away from a village. No one has ever made us feel unwelcome.'
The attitude of men and boys is important. 'This is the nub of our problem. Men are the guardians of our traditions – and the most resistant to our ideas. They are not affected directly. If they were mutilated and forced to marry against their will maybe their resistance to change wouldn't be the same! It's not them that have to suffer these acts of violence.'
'When women are seen as full and equal citizens these problems will disappear.'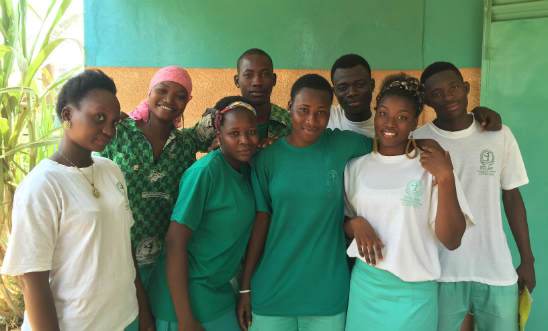 Driving change: youth leaders at a school in Ouagadougou
Changing attitudes
Once a visit is arranged the team finds the best ways of communicating –a sketch or play with a debate everyone can join, using images and cartoons, or inviting a community leader to go on a radio programme. Thanks to careful groundwork, the villagers are receptive.
'When we talk to men we try and arrange for an all-male group to make the first visit. Attitudes can make it difficult for a woman to talk to men about these issues. Take me for example. I look young, I'm not married, I don't have children. If I turned up in a village to talk to the men, they would say that I don't have any experience, I am just a child.
'In our culture respect for one's elders is important and the age difference means they wouldn't take me seriously. We also try and make sure that families are represented, to shock them, and get them to understand that young women have a right to speak too, because their experiences speak louder than anything else.'
Noelie had personal experience of the male assumption that a young woman's future is not her own to decide. When she was 16 – the middle of five children in a well-off, progressive family – 'a high-ranking official' asked her father for her hand in marriage. But Noelie's father said: 'Wait! She's still at school, for her the priority is school. But one thing is certain – you need to ask her what she thinks about it. If she agrees, there's no problem.' So the man did ask Noelie. 'I was ashamed – it was the last thing on my mind. I was still a child. But my dad let me decide. He put my future first.'
Programmes such as Amnesty's are certainly changing hearts and minds. The general trend is away from FGM, particularly in towns and cities but in rural areas too.
Women standing up for equal rights
But the biggest driver for change is young women themselves, with a growing number of women or young girls who decide to bring about change in their own lives.
'Sometimes this is because of a change in conviction, sometimes because the law in Burkina Faso imposes drastic sanctions for FGM.
'I dream that one day women will have free access to all the services they need, in family planning, for example. I hope the laws will be enforced properly: we have laws on reproductive health and forced marriage but there are still difficulties in enforcing them.
'And I dream that one day women and girls in Burkina Faso will really be regarded as equal to men. That underlies the whole problem: the fact that women are regarded as inferior. When women are seen as full and equal citizens able to take responsibility for themselves and enjoy the same rights as men, these problems will disappear.'
About Amnesty UK Blogs
Our blogs are written by Amnesty International staff, volunteers and other interested individuals, to encourage debate around human rights issues. They do not necessarily represent the views of Amnesty International.
View latest posts