It's time to act on refugee family reunion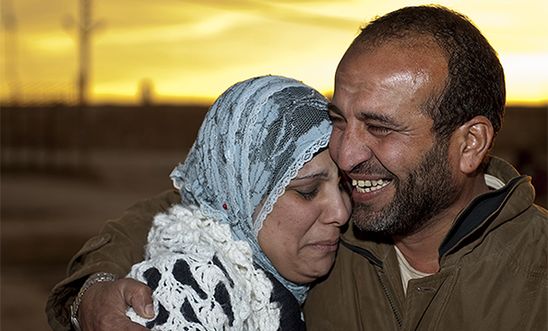 A refugee family reunited © Amnesty International
By Bob Neill MP and Angus MacNeil MP
For most people, family lies at the heart of everything we hold dear. It's where we go for love, support, advice, validation and commiseration.
 
Family life is a value we all share, it transcends party politics, divisions and splits. A year ago today, it was an issue that brought a cross-party group of MPs together. We joined our colleagues and others from across the political spectrum and voted on a single issue – the right and means for refugees in this country to be reunited with their families.
 
Standing in the packed voting lobby looking across at all the parliamentarians who had come together to champion refugee rights and family togetherness felt like a testament to the values of our Parliament – openness, fairness and family values.
 
It was also a testament to the thousands of people across the country, from Balivanich to Bromley, who have welcomed refugees into their communities and who had called on us as MPs to help bring refugee families together.
 
Not a politician in this land would dispute the central value of a loving family life. Yet when it comes to refugee families our laws are driving a wedge between family members who should be together.
 
A child from Syria or Eritrea, already forced to leave their home and everything that was familiar to make a perilous journey to these shores, is then confronted with the heart-breaking prospect of potentially never seeing their parents or siblings again. Already dealing with the enormous challenge of adjusting to a new life in a new country – facing language barriers, post-traumatic stress disorder, anxiety and uncertainty - they are now being forced to do so without the most important people in their lives.
 
On March 16 2018 we voted to change this. We stood alongside 129 other MPs in Parliament and demanded to see an end to the rules that condemn child refugees, fleeing conflict and persecution, to live in the UK without their parents. Rules that prevent parents from being reunited with their children over the age of 18. Rules that keep refugee families apart, at a time when they need their families the most.
 
But now, a year later, and nothing has changed. Despite the Refugee Family Reunion Bill passing with an overwhelming majority, the Government has used red tape to block the bill from progressing.
 
They say a week is a long time in politics, but this has now been a year. For refugee families it means a year of missed birthdays, Christmases, Mother's Days, Father's Day and Eids. It means a year without family dinners, a hug from your parents, an argument with your siblings, a day out together.
 
This is why we have come together to write to the Home Secretary, the Leader of the House and the Government Whips to urge them to use their power to stop the delays on this Bill and allow it the necessary time to proceed.
 
Family reunion acts as a positive accelerator of integration for both the new arrivals and family members already in the UK.
 
If we want to give refugees the best chance to rebuild their lives and contribute to our society, reuniting people with those they love isn't just humane. It's common sense. By helping this Bill pass the Home Secretary can right a wrong and further demonstrate our commitment to family values across the UK. With his help we can bring families together.
About Amnesty UK Blogs
Our blogs are written by Amnesty International staff, volunteers and other interested individuals, to encourage debate around human rights issues. They do not necessarily represent the views of Amnesty International.
View latest posts