Tiananmen Square: Four things you should know
This week marks 33 years on since the Tiananmen Square crackdown in China.  Hundreds if not thousands of people were killed, and tens of thousands were arrested – simply for peacefully calling for reform and an end to corruption.
 
The Chinese government have never acknowledged what actually happened at the protests. There are no official acts of remembrance – in fact, the event is heavily censored in China. On social media – even today – reposting images from the protest can get you detained.  
 
We can't allow this tragic event to be forgotten. Here are four things you should know about Tiananmen Square.
1)    Over a million people joined protests in 1989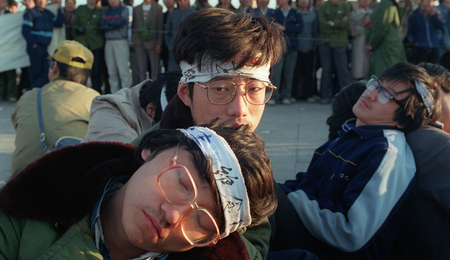 Student hunger strikers from Beijing University. AFP/Getty Images
In 1989, China saw a rise of pro-democracy student groups making waves across the country. This activity peaked at the beginning of June, when peaceful protesters gathered in Tiananmen Square to demand political and economic reform. 
 
It's estimated that over a million people joined the protests in Beijing in a show of solidarity.
2)    Nobody knows the true death toll  
On the night of 3 June, the government sent tens of thousands of armed troops and military vehicles to Tiananmen Square. Their goal was to enforce martial law, forcibly clear the streets of protesters and 'restore order'.
 
As they approached the peaceful demonstrations in the Square, troops opened fire on crowds of people. They gave no warning before they started shooting.
 
There are no official records about the death toll or number of casualties from that night.
3) Tank Man erased from public consciousness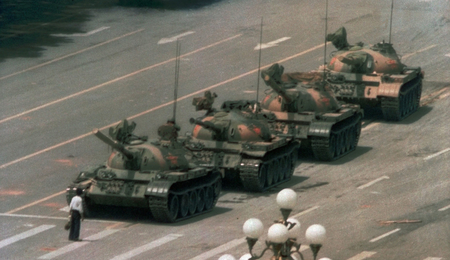 A Chinese man stands alone to block a line of tanks heading east on Beijing's Cangan Blvd. in Tiananmen Square © Jeff Widener/AP/REX/Shutterstock
Perhaps one of the most iconic images of resistance in the 21st century is Tank Man. It shows an unarmed man with his shopping bags defiantly facing down a line of military tanks.
'Tank Man' showed us the hope and dignity of humanity, whose spirit keeps inspiring us in our struggles ahead.
Dr Shao Jiang, activist during the 1989 Tiananmen Square protests
The infamous photo was shared on 5 June to Western media. It symbolises the struggle in one shot – peaceful protest met with military might.
 
The photograph – well-known and widely recognised in the West – seems to be an image that China has forgotten.  Any mention of Tank Man is systematically censored in China.
4)    It's still a banned subject in China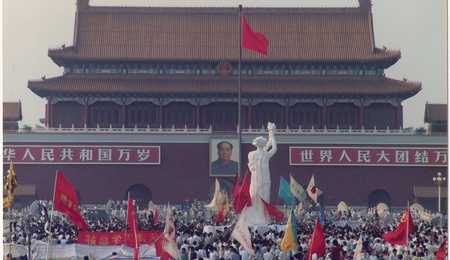 Protest in Tiananmen Square, Beijing, 1989. © Hong Kong Alliance
Within China, the events of 1989 – including the Tiananmen Square crackdown itself – have been erased from history. Any reference to the Tiananmen crackdown is censored in the Chinese media, and anyone attempting to discuss, commemorate or demand justice have been silenced.
 
Many people have been imprisoned for commemorating victims or questioning the official line. People in Hong Kong are also being silenced, with participants in Hong Kong's candlelight vigil unjustly arrested and jailed. For instance, Human rights activists like Chow Hang-tung is currently in jail for organising a peaceful vigil to commemorate the Tiananmen crackdown in China.
 
Censorship in China continues to hugely stifle free speech. But the quest for truth and justice will continue. The Tiananmen crackdown must not be forgotten. 
About Amnesty UK Blogs
Our blogs are written by Amnesty International staff, volunteers and other interested individuals, to encourage debate around human rights issues. They do not necessarily represent the views of Amnesty International.
View latest posts